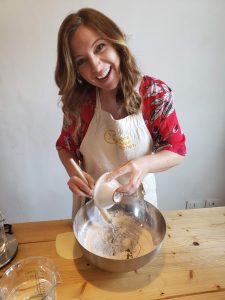 Hi friends! My name's Amy and I'm a home cook who shows love through food.
Baking is in my blood, with a long line of amazing bakers in my family. But I also love to cook savory dishes and find inspiration from the places I've traveled. As a little girl, the kitchen represented family dinners and the smell of mom's chocolate chip cookies. As I've gotten older, the kitchen has become my creative outlet and a space to clear my mind. During this pandemic, I've really leaned into my love for cooking, baking, and recipe development. The kitchen has helped me shift my mindset when I've felt overwhelmed and anxious. It's reminded me of just how important a space the kitchen is.
Cooking Restored focuses on cooking REAL food from REAL ingredients. Recipes are inspired by childhood favorites, food of my travels, and seasonal produce. I'm a firm believer that food and the act of cooking can restore our mind, body, and soul so let's cook that way, together.  Happy cooking!