If you've had my Israeli hummus, you know how addictive it is. So, I'm constantly looking for ways to add it to more of my meals. This Mediterranean hummus and eggs dish is one of my favorite ways to include hummus in a slow morning breakfast or weekend brunch.
I tend to prefer this breakfast for a slower morning because it's ideally best fresh. But, it's also easy to make several components of this dish before actually serving it. So, whether you want a faster version of this breakfast the morning of or want to simplify your morning, you can roast your vegetables and make the hummus beforehand. You'll just want to reheat both before assembling the hummus and egg bowl.
To start, begin by making your vegetable mix. Cube the eggplant, dice half a red onion, and cut the artichoke halves into fourths. When prepping your artichokes, remove half of them from the jar. I use the large jar of marinated artichokes from Costco, linked here. I remove half of the artichoke hearts, saving the marinating oil, rinse them, and then measure out the oil needed. Rinsing the artichokes and then adding the oil separately helps coat the other vegetables without them being saturated in it. Mix the vegetables with the oil, add them to a parchment-lined baking sheet, and bake in the oven for 25 minutes.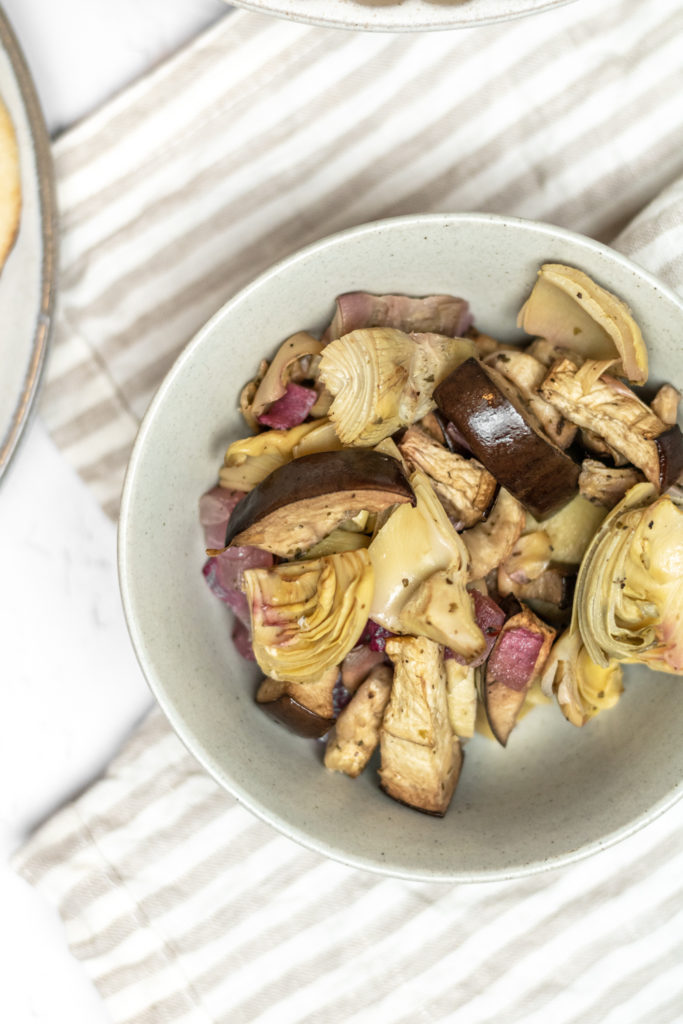 Next, make your hummus while the vegetables are roasting. You can find the recipe for my Israeli hummus here.
Then, heat up your naan bread. I like just one slice of naan bread with my Mediterranean hummus and eggs dish, but my husband likes a few. Take a few slices and toast them in the toaster oven until they're warm and soft.
Next, make your eggs! You'll want one egg per dish. I think a runny egg is perfect and adds a velvety texture alongside the hummus. You can either cook your eggs over easy or poach them, both give you that silky runny yolk.
Once everything is prepped, it's time to put it all together. In each of the two shallow bowls, spread the hummus to create the same shallow bowl shape. Then, add a layer of the vegetables. Last, top it all off with the egg. Serve with naan on the side and enjoy this delicious Mediterranean hummus and eggs breakfast.
Mediterranean Hummus and Eggs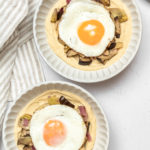 Print This
Ingredients
1 eggplant, cubed

1/2 red onion, diced

1/2 jar of Kirkland marinated artichokes, rinsed and cut into fourths

1/3 cup jar liquid

1 cup Israeli hummus (see directions)

2-4 slices of naan, dependent on preference

2 eggs
Instructions
Preheat oven to 425F.
Meanwhile, in a bowl, mix together the eggplant, red onion, artichokes, and jar liquid. Place the Mediterranean mixture onto a parchment-lined baking dish and bake for 25 minutes.
While that's baking, make the Israeli hummus. 
Note – The vegetables can be pre-roasted and stored the night before. The hummus can also be made the day before. Simply warm both up before service.
Preheat the naan bread.
While the naan is warming, begin cooking your eggs.
Assemble hummus bowl. Layer 1/2 cup of the hummus at the bottom of an individually-sized bowl. Then, add 1/3 cup of the roasted vegetables on top. Top with your cooked egg.
Serve with a side of naan and enjoy!
Notes
The vegetables can be pre-roasted and stored the night before. The hummus can also be made the day before. Simply warm both up before service.