I know, I know. How original, another avocado toast. But since I've been eating this every opportunity I can get, I think it's time I share my take on avocado toast. This is my Cali avocado toast.
Like any other good California girl, I love freshly sliced avocado. And not just any avocado. We're talking that ripened to perfection avocado that's brightly green, slightly soft, and comes away from the seed without effort. Those are the kinds of avocados I dream of. If you find yourself with one of these avocados, slice it up, and put it on toast. If it's not perfection, you can still use it and gently mash it.
This recipe begins by pickling the red onion. I typically have a batch pre-made in the fridge or will make some the night before for the best flavor. But if you forgot to make them, you could always do a quick pickle or simply leave the red onions raw. Pickling the red onions will remove some of the harshnesses of the onion and make them a bit sweeter. Honestly, I could eat pickled red onion straight, they're so good. For my homemade pickled red onions, click here.
To make the Cali avocado toast, begin by toasting a slice of your favorite bread. I tend to use a slice of my quick no-knead bread. While it's toasting, cook the egg. I like to add the smallest bit of avocado oil to my pan before adding the egg to prevent sticking. I prefer my eggs over medium, which is perfect on this toast. While it's cooking, slice the avocado, chop the cilantro, and get out the cotija. Once the egg is done cooking, you'll want to assemble it all quickly so your egg is still warm.
On the slice of toast, add your sliced avocado. Then, top it with the egg. Then, add the pickled red onions, cilantro, and sprinkle it with cotija cheese. And for an extra kick, add some hot sauce or pico de gallo!
Cali Avocado Toast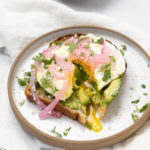 Print This
Ingredients
1 slice of bread, toasted

1 over-medium egg

salt and pepper to season

1/2 of a Haas avocado, sliced

1-2 tbsp pickled red onions

1/2 tbsp cotija cheese, crumbled

1/2 tbsp cilantro, chopped

a drizzle of hot sauce
Instructions
Begin by making sure you have a batch of pickled red onions made.
Then, pop a slice of your favorite bread into the toaster/toaster oven.
While your bread is toasting, cook your egg the way you like it. I prefer it over easy/medium and think it goes perfect with this dish. 
As your cooking your egg, slice the avocado, prep the cilantro, and get our the cotija and hot sauce.
Now it's time to assemble your Cali Avocado Toast. Starting with the toast as the bottom layer then top it with the sliced avocado. Add your cooked egg on top of the avocado, followed by the pickled red onions, cilantro, cotija, and hot sauce.
Serve hot and enjoy!