Sometimes a recipe pops out of nowhere, simply because you're trying to recover from a mistake. That's how these hummus cakes started. This is a mistake I'm really happy about.
It all started when I planned on making homemade hummus. I had soaked garbanzo beans for 24 hours. What I should have done was boil them for thirty minutes before throwing them in the food processor. What I actually did was toss them it, soaked but uncooked. As I began to blend, after adding all of my ingredients, I realized my error. The shells began to separate from the beans themselves and that's when I knew. I could have thrown it all out. But, I hate throwing away good food. Food waste is one of my biggest pet peeves. So I was determined to figure something out.
I had added the tahini, olive oil, and water to the garbanzo beans already. Ok, on the way to a good hummus. So now I had to get creative. I decided to add a dash of lemon juice and lots of salt. Garbanzo beans need the salt. I then added some of my favorite spices and flavors for hummus; cayenne, paprika, and fresh garlic. I added a little extra olive oil and let the food processor take over and blend for 5 minutes.
The texture came out smooth and creamy, a cross between hummus and falafel. That's when it hit me! I could try making these into patties, fry them like falafel, but have a softer hummus-like texture in the middle.
And it worked! These hummus cakes are soft in the middle, similar to the texture of hummus, yet crispy on the outside from frying them. They have all the similar tastes of hummus, including a lingering taste of tahini at the end. My 'mistake' has turned into a new regular in our house. We've loved them as a midday snack with sourdough naan from Barley & Sage or in the middle of a veggie sandwich as a source of protein.
Hummus Cakes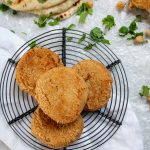 Print This
Ingredients
1 1/2 cup dried garbanzo beans, soaked

2 quarts of water

2 1/2 tbsp tahini

3 tbsp olive oil

1 tbsp lemon juice

1/4 tsp salt

2 cloves of garlic, pressed using a garlic press

1 tsp paprika

1/2 tsp cayenne, more for heat
Instructions
Soak 1 1/2 cup of dried garbanzo beans in 2 quarts of water 12-24 hours.
Drain the garbanzo beans of water after soaking and add them to the food processor.
Add all the other ingredients to the food processor and blend for at least 5 minutes, or smooth.
Using a 1/4 cup measuring cup, scoop even portions of the mixture and shape into disc-like shapes.  Place the discs on a parchment paper-lined baking sheet and place in the fridge for up to an hour.
Heat a large castiron skillet with a half-inch deep of avocado oil over medium heat.
Cook hummus cakes, a few at a time, for 3 minutes on each side or until golden.
Set cooked hummus cakes on a cooling rack until they're all cooked.
Serve warm with naan bread.