Lemon chicken is something I've been making for years. It's evolved over time, sometimes being so lemony it would make my lips pucker! But I enjoyed the tang of the citrus against the chicken, especially when paired with broccoli. It reminds me of a hot summer afternoon.
Something that's evolved over the years is incorporating ghee in my cooking when I once used unsalted butter. Ghee is a butter substitute in which the milk solids have been removed during the clarification process, reducing or eliminating the lactose. Since I'm lactose-intolerant I cook with as little dairy as possible. Ghee has been a great substitute for me and my family hasn't minded the switch either.
This recipe also calls for a white wine. I typically buy a cheaper dry white wine that I keep in the fridge for cooking. It lasts quite a while corked and kept cool. I like using a chardonnay for lemon chicken. The white wine compliments the lemon and ghee, adding a layer of depth to the dish. It also cooks down well in sauces, which is why my white wine of choice for cooking is a chardonnay.
I prefer to start my lemon chicken on the stovetop using a cast iron before putting it in the oven, but could easily go straight in the oven in a pinch. For extra decadence, I like plating lemon chicken over a parmesan polenta, drizzled with sauce, paired with a side of broccoli or green beans. This chicken is also great for meal prep, easily made for the week ahead.
I sometimes like to add garlic to the lemon chicken as well. Lemon is a powerful enough flavor that it can compete with the garlic without taking it over completely. It changes the recipe ever so slightly while still making it feel like a different dish entirely. 
Lemon Chicken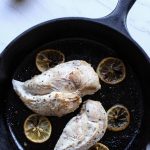 Print This
Ingredients
1/2 cup white wine (I prefer using chardonnay, but any dry buttery white wine will work)

1/2 tbsp ghee

1 1/2 lemons

2 large skinless chicken breasts

salt to taste

pepper to taste
Instructions
Preheat the oven to 385 degrees.
Slice a lemon into several thin slices.
In a cast iron over medium heat, add the ghee. After the ghee has melted, which will happen almost immediately, add the white wine and sliced lemons. Reduce the heat to low and simmer for 5 minutes.
Add chicken breasts to the cast iron, turning the heat back to medium. Sprinkle with salt and pepper to taste. Allow the chicken to cook for three to five minutes, flip over, sprinkle with salt and pepper, and cook for an additional three to five minutes.
Squeeze the remaining half of a lemon over chicken before placing in the oven.
Allow the chicken to cook for roughly 25 minutes or until inside temperature reads 160 degrees.
Allow chicken to rest for a couple of minutes before slicing it to serve.
Pair with your favorite side dishes and enjoy!