I love a good savory breakfast dish. In fact, I feel best when I have at least one egg at breakfast. But most mornings I don't want a classic scrambled egg and toast, it needs to have a little something extra. That's why these breakfast enchiladas are one of my favorites!
These enchiladas are easy to make, especially when the enchilada sauce is already made. And since they only require a few basic ingredients, they're simple to whip up. It's easy enough to make a small batch for a weekday breakfast and perfect to multiply for a big brunch.
To start, make your enchilada sauce. I like to have a batch premade in the freezer that I can quickly thaw the night before by sticking it in the fridge and letting it sit overnight. You could also use canned enchilada sauce. Next, cook your shallots for a couple of minutes until softened. Then, add your eggs and scramble them until almost fully set. You want to avoid overcooking since the eggs will continue to cook in the oven.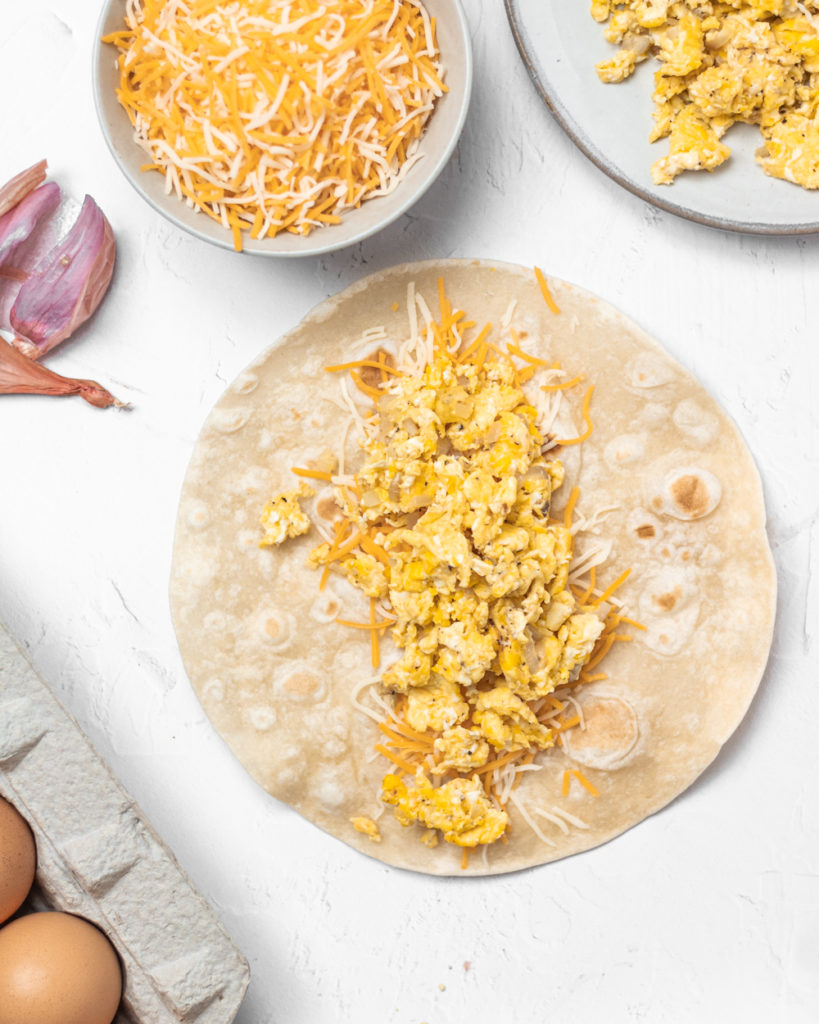 Next, assemble your enchiladas. Lay your tortilla flat on the counter, add a layer of cheese, then some of the scrambled eggs. Roll the tortilla, encasing the filling. In a baking dish with a thin layer of enchilada sauce on the bottom, place the breakfast enchiladas on top of the enchilada sauce one by one. Top with lots of enchilada sauce and extra cheese to create that ooey gooey layer of cheese we all love on our enchiladas.
Bake them for twenty minutes until the sauce is bubbling and the cheese is melted. Before serving, allow them to sit for five minutes.
This recipe makes two breakfast enchiladas. Simply add more of each ingredient and use a larger baking dish for a larger serving size. Serve with spicy Mexican rice and spicy mango margaritas for the ultimate brunch.
Breakfast Enchiladas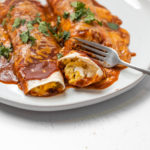 Print This
Ingredients
1 shallot, diced into small pieces

3 eggs, lightly whisked

1/2 cup shredded cheese, Mexican blend or pepper jack

2 large flour tortillas

1 cup enchilada sauce, extra if you like it extra saucy
Instructions
Start by making your enchilada sauce. I prefer to have mine premade the night before for a quicker breakfast.
Preheat the oven to 375F. Add a thin layer of enchilada sauce to a large baking dish and set aside.
Over medium heat, cook your diced shallot in a non-stick pan until soft, roughly 3 minutes. Add your whisked eggs. While constantly stirring, scramble the eggs.  Cook them until just under. They will continue to cook in the oven, so avoid overcooking them. 
Assemble your enchiladas. Place a tortilla down on the counter, then add some of the cheese dependent on how cheesy you want them in the middle of the tortilla. Add half of the scrambled eggs on top of the cheese. Roll your tortilla, encasing the enchilada filling. Repeat. Place each enchilada into the baking dish. Top the enchiladas with the remainder of the enchilada sauce and shredded cheese. 
Bake in the oven for 20 minutes until the sauce is bubbling and the cheese has melted. Allow them to sit for 5 minutes before serving.
Enjoy!