Last week I asked a question on Instagram asking what meal they couldn't live without. A lot of people said pizza or tacos, but one surprised me; chicken parmesan. The response made me stop and think, when's the last time I had chicken parmesan? It's been a LONG time. So then I got to thinking, why not make my own version using cauliflower! Turns out, cauliflower parmesan is delicious.
Growing up my mom used to make a lot of chicken parmesan. It was a staple in our house as a quick and hearty weekday dinner. It was also one of my brother's favorites. It's been so long since I had it I almost forgot how comforting and delicious it could be.
My husband and I have been talking about cauliflower steaks lately. We were suspicious of a cauliflower steak taking the place of a slice of meat. But I have to say, I'm no longer suspicious. This cauliflower parmesan is so good. The caramelized bits on the edges of the cauliflower reminded me of the little caramelized breading bits on the chicken. The texture from searing then roasting it made it feel meaty when cutting it. It also worked as a perfect base for the sauce and parmesan topping.
This dish also came together really quickly. I added some extra seasoning and spices to the jarred marinara, cooked up the cauliflower and noodles until al dente, and used pre-shredded cheese. I kept this recipe true to the quick weekday dinner I remember as a kid. My favorite marinara to use is Rao for its clean ingredient list and lower sugar count than most. I like to toast then crush extra fennel seed, oregano, and Italian seasoning to the sauce to give it an earthier flavor.
After the cauliflower is done roasting in the oven, serve it over a bed of pasta noodles, a little extra sauce and a side salad. It'll bring back all your childhood memories of chicken parm but keeping it veggie.
Cauliflower Parmesan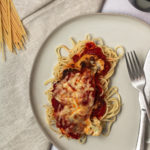 Print This
Ingredients
1/2 pack of spaghetti noodles

2 1/2 tbsp avocado oil

1 head of cauliflower

4 cloves of garlic

1 tsp fennel seeds

1/2 tsp oregano

1/4 tsp Italian seasoning

1 jar of spaghetti sauce

salt and pepper to taste

1/2 cup mozzarella
Instructions
Begin by cooking your spaghetti according to the spaghetti you purchased. (I typically bring a large pot of water to a boil with salt for flavor then cook the pasta for about 7 minutes. Once al dente, drain and set aside.)
While the pasta is cooking, preheat a large castiron or oven-safe pan over medium heat. Slice the cauliflower into thick slices, roughly an inch thick. The first slice or two will break apart, but that's ok, save those. Once you get closer to the center, you'll create connected slices. You'll likely get around three full slices. Peel and slice the garlic.
Once the pasta is drained, place the large pot back on the heat. Add a 1/2 tbsp of avocado oil. Add the garlic and cook for roughly 90 seconds until fragrant. Using a motor and pestle, roughly grind the fennel. Add the fennel, oregano, and Italian seasoning. Cook for an additional 30 seconds.  Add the jarred spaghetti sauce, stir it all together, and allow it to simmer on low until heated through.
Preheat oven to 425F.
Add two tablespoons of avocado oil to the heated cast iron, then add the sliced cauliflower. Salt and pepper to taste. Allow them to cook/sear for 5 minutes. Flip them over and cook for an additional 5 minutes. Add the remaining cauliflower that broke apart, allow it to cook as well. Add additional oil if needed. Flip the large pieces over one more time, as well as the smaller pieces, and cook an additional 5 minutes.  
Cover them with spaghetti sauce then sprinkle with mozzarella and parmesan. Add the pan to the oven and bake for 10 minutes.
Remove the baked cauliflower from the oven. Layer the cauliflower parmesan over a bed of pasta and extra spaghetti sauce. Serve hot and enjoy.