Each Christmas, my mom would make my grandpa's chocolate walnut fudge. It was special. Not only because it was a Christmas special, but because it was one of my grandpa's favorite recipes. I've been craving this perfect combination of chocolate and walnuts lately so I made decadent chocolate walnut cookies.
These cookies are similar to my chocolate chip cookies recipe. They're similar in the way they're made and baked as well. But these cookies are a little more decadent with added cocoa powder and walnuts.
Begin making the chocolate walnut cookies by beating together the butter and sugars using a stand mixer. Once completely mixed together, roughly a minute or two, add the egg and vanilla extract. Continue to mix for another minute until fully mixed together and fluffy. You'll then add the flour, baking soda, and cocoa powder. Beat on low for an additional minute. Add the walnuts and dark chocolate chips and do the same until they're evenly distributed.
Using an ice cream scooper, scoop out twelve cookies onto a parchment-lined cookie sheet. Have the cookies rest and cool on the fridge for two hours. After resting, bake the cookies for fifteen minutes. Let the chocolate walnut cookies rest an additional 2 minutes out of the oven after being baked before cooling them on a cooling rack.
Chocolate Walnut Cookies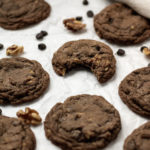 Print This
Ingredients
1/2 cup unsalted butter, softened

1/4 cup plus 2 tbsp dark brown sugar

1/4 cup plus 2 tbsp sugar

1 large egg

1/4 tsp vanilla extract

1/2 tsp baking soda

1 cup all-purpose flour plus 2 tbsp

1 tbsp cocoa powder

1/2 cup chopped walnuts

1/2 cup dark chocolate chips
Instructions
Using a stand mixer beat together the softened unsalted butter and sugars until creamy and smooth, roughly 2 minutes.
Add the egg and vanilla and beat together until fully combined and fluffy, roughly another minute. Add the baking soda, cocoa powder, and flour. On the lowest setting, beat these into the butter mixture until the dough comes together. 
Pour in the chopped walnuts and dark chocolate chips and mix them in on the lowest setting. Make sure that they're evenly distributed.
Using a large ice cream scooper, scoop out the to-be cookies and put them on a parchment-lined baking sheet. Put the baking sheet in the fridge and allow them to rest for an hour.
After the cookies have cooled, preheat the oven to 350F degrees.
Once preheated, take 6 of the to-be cookies out of the fridge and place them on a room temperature parchment-lined baking sheet. Put them in the oven and cook for 15 minutes. Let them sit on the baking tray for 2 minutes before putting them on a cooling rack.
Take the remaining cookie dough balls, place them on the baking tray, and bake. Again, let them sit on the baking sheet for 2 minutes before moving them over to the cooling rack.
Enjoy!