You know those people who love pumpkin everything, obnoxiously so? Well, I'm one of those people. Each year I wait in excitement for the temperature to drop and the leaves to begin to change. It's then that I know pumpkin everything can begin. And this year, I've been obsessing over this creamy pumpkin pasta.
I was inspired by my friend Taylor at Soul Brew with her Pumpkin Cacio e Pepe. I was intimidated by making my own pumpkin spaghetti, but seeing how simple it was to master, I knew I had to get working on my own. And let me tell you, this creamy pumpkin pasta is so easy to make you'll be adding it to your weekly meal rotation. I have.
The sauce comes together quickly, taking just 5 minutes once all of the ingredients are in the castiron. And if you don't have a castiron, no worries. You can use any saucepan. I also recommend having the ingredients prepped and ready to go to prevent the sauce from burning since it cooks up so quickly. And if you want the sauce extra thick, you can replace the water with pasta water by saving some aside before draining your pasta. If you do replace the water with pasta water, make sure not to add the salt. Your pasta water should be salty enough. Since I typically make creamy pumpkin pasta for lunch using leftover cooked noodles, I typically use water.
Regardless of making creamy pumpkin pasta for lunch or dinner, this meal is so comforting.  It's a cozy meal, pairing perfectly with the cooling temperatures of the fall. And if you're making this for the whole family, simply multiply the ingredients to double or triple the size.  Happy pumpkin season!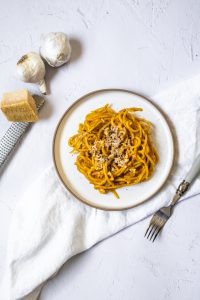 Creamy Pumpkin Pasta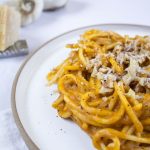 Print This
Ingredients
1 cup spaghetti noodles, cooked

2 tbsp unsalted butter

2 cloves garlic, sliced

1/2 tsp freshly ground pepper, more to taste

1/4 tsp salt, more to taste

1/2 cup pumpkin puree

1/3 cup water or pasta water

1/8-1/4 cup freshly grated Parmigiano Reggiano cheese

optional, garnished with chopped walnuts

optional, garnish with a light dusting of lemon zest
Instructions
Cook your spaghetti until al dente, roughly 7-10 minutes.
In a cast iron, melt butter over medium-low heat. As it begins to melt, add the sliced garlic and allow it to saute until fragrant and just tender, roughly 2 minutes. Add the salt, pepper, water, pumpkin puree, and Parmigiano Reggiano. Mix all of the ingredients together and allow the sauce to simmer for 5-8 minutes or until thickened, stirring occasionally to prevent burning.
Stir the noodles into the sauce until fully coated.  cook for an additional 1-2 minutes. Serve hot with a little extra grated Parmigiano Reggiano, freshly cracked pepper, chopped walnuts, and some lemon zest.