I absolutely love extra saucy enchiladas. There's something intoxicating in the smell of homemade enchilada sauce as it simmers away on the stove. As the tortillas are slathered in sauce, the house fills with anticipation for dinner. When they come out of the oven piping hot, they're at their best. 
When I was first searching for a homemade enchilada sauce, I was instantly inspired by the vegan Oh She Glows recipe. The recipe was simple, easy to make, and came out tasting delicious. But for my family, I needed to add more heat. I also needed to make far more of it to ensure my enchiladas were doused in sauce. 
Over the years I have made hundreds of batches of enchilada sauce, using it to top enchiladas and as a sauce on eggs for breakfast. I typically save a cup of the sauce when I'm making enchiladas and throw it in the freezer. This sauce holds up well in the freezer and can to be thawed for a small personal batch of enchiladas or breakfast egg-topped tostadas. You can also add a spoonful of enchilada sauce to a bowl of tortilla soup. Personally, I could eat the sauce with a spoon.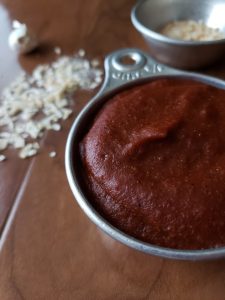 When I have goat butter, I prefer to make this sauce with it. It adds another layer of flavor and a little extra fat to the sauce. You can also make this sauce with vegan butter to make a vegan version, which I have also done a couple of times. When making a vegan sauce, I like to go full vegan on my enchiladas. I stuff vegan tortillas with black beans, sweet potato, and chilis and omit the cheese.
Typically I fill my enchiladas with leftover turkey or chicken from a previous dinner or make a breakfast variety with egg. I cook up soft scrambled eggs and sauteed onions before adding them to flour tortillas lined with goat cheese. I bake my enchiladas for 20 minutes at 400 degrees and let them sit for 5 minutes before serving.
Enchilada Sauce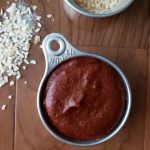 Print This
Ingredients
6 tbsp unsalted butter or goat butter

6 tbsp all-purpose flour or gluten-free all-purpose flour

4 1/2 tbsp chili powder

3 tsp garlic powder

3 tsp cumin

1 1/2 tsp onion powder

1 tsp cayenne pepper (or more for more spice)

2 tubes of concentrated tomato paste

4 1/2 cups of boiling water

4 1/2 tsp Better Than Bouillon vegetable broth

1/2 tsp salt
Instructions
In a large pot, melt the butter over medium heat.
Using a whisk, stir in the four until a thin paste forms.
Add the spices and continue to whisk for 1 minute until spices are fragrant and combined in the paste.
Add the boiling water and vegetable broth, whisking until smooth.
Add the tomato paste and whisk until smooth.
Reduce heat to low and allow the sauce to simmer for at least 15 minutes. If you have longer, you may simmer for up to 30 minutes to get a thicker enchilada sauce.