There is an amazing company in San Diego that makes different varieties of alternative breadcrumbs, nut crumbs. The alternative breadcrumbs are made from different nuts and spices, ground up to create a crumble-like texture. I've purchased the spicy variety many times to coat my baked fish, adding a little texture, healthy fat, and flavor.
I would often buy these nut crumbs when we lived walking distance to the farmers market. Since we no longer live this close to the farmers market and have been home due to stay-at-home orders, I haven't purchased the company's nut crumbs in some time. I have been craving them though. So, I went to the kitchen and decided to make my own.
I started with the nuts I had in the cupboard; almonds and cashews. Using a Kitchen Aid food chopper, I started pulsing then chopping the almonds until a rough almond meal texture was formed. Then I added the cashews and did the same thing until the two nuts created a fine meal texture. I then added the spices and mixed well. You can always add more cayenne if you want to kick the spice up a notch!
I keep my homemade nut crumbs in the freezer to ensure freshness, especially in this San Diego heatwave. They can last months this way. Use them as a substitute for breadcrumbs to coat proteins, add to meatballs, or sprinkle over a salad. You can also substitute the breadcrumbs in my Quinoa Cakes using these nut crumbs. Although this recipe calls for spices that would make it spicy, you can replace the spices with other combinations to create your own varieties.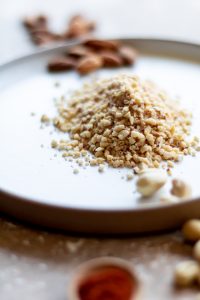 Homemade Nut Crumbs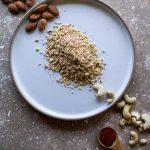 Print This
Ingredients
½ cup raw almonds

½ cup raw cashews

¼ tsp fresh cracked pepper

¼ tsp sea salt

¼ tsp sweet smoked paprika

¼ tsp cayenne

⅛ tsp chili powder
Instructions
Using a Kitchen Aid Food Chopper, add almonds and begin pulsing the nuts. After a few pulses, begin chopping the almonds until a coarse almond meal forms.
Add cashews to the coarse almond meal. Start by pulsing in the cashews then continue chopping them until a fine nut meal forms.
Add in spices and mix together.
Store in a freezer-friendly container for a couple of months to keep fresh.