With the current pandemic, my family and I have decided to avoid grocery stores for the next month. This week especially is a crucial week. In our efforts to stay home yet still have fresh fruits and vegetables, we've been ordering directly from local farms. There's nothing like having fresh produce delivered straight to your door. It's the best! Three Sons Farm has been my go-to local farm. (Umm, can this always be a thing?!) In our recent citrus box, we got an array of the most beautiful citrus; one of them being kumquats.
These tiny citrus gems are refreshing bursts in your mouth. Kumquats start out tart and tangy then end with citrusy sweetness. You can eat the entire fruit, so there's less mess having to deal with peeling. They're similar to other citrus and filled with vitamin C. So much so that a handful of these contains over half the recommended dose of vitamin C.
Before our produce box, I personally had never had a kumquat. My first taste, wow. Kumquats are so tart they make my lips pucker. I was relieved when the tartness quickly turned to sweetness. After my first bite, I was intrigued by what others do with kumquats. I read what chefs typically use them for. They're usually roasted with duck, used for citrus salads, and made into sweet marmalades. I chose to test my luck with a marmalade.
Marmalade is a jam but made from citrus. It's typically thick in texture and fairly simple to make. I personally like marmalades because they're so versatile. Kumquat marmalade can be added to a roasted poultry dish as a glaze with the addition of peppers, spread on no-knead needed bread slices, or even drizzled on ice cream. With warmer days of spring and summer ahead, I see kumquat marmalade topped on freshly baked scones and added into a margarita while sitting poolside.
Kumquat Marmalade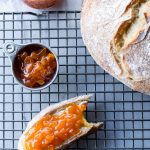 Print This
Ingredients
2-3 cups kumquat

2/3 cup sugar (can use coconut sugar if desired)

Lemon juice and zest of 1 lemon

1 cup water

pinch of cayenne

1 1/2 tsp coconut sugar
Instructions
Quarter kumquats lengthwise and remove the seeds. (Be prepared, removing the seeds is a total pain as there are thin ones that will be missed. I found that they floated to the top as I was cooking the marmalade later.) 
Dice kumquats into smaller pieces so that they're easier to break down.
Add kumquats pieces to a large pot. Add lemon juice, lemon zest, sugar, cayenne, and water. Stir ingredients together and allow them to sit for four hours. This helps break down the skins of the kumquats and allows the flavors to come together.
After four hours, heat up the pot over medium heat and allow the marmalade to simmer for 15-20 minutes. Stir the marmalade every so often to ensure that it's not sticking to the sides or the bottom of the pot.
As the marmalade begins to thicken, add 1/1/2 tsp of coconut sugar and stir it in. I like the extra layer of flavor and color this gives the marmalade.
After 15-20 minutes, set the marmalade aside and allow it to cool for 10 minutes.
Place marmalade into a sterilized mason jar to store. Make sure the marmalade has fully cooled before putting it in the fridge.