Anyone else hate letting food go to waste? I can't stand it. So when I have produce that's about to go bad, I always make sure to change dinner plans and use it up. Last week I had some mushrooms about to turn so I whipped up mushroom arugula toast.
I knew I only had a couple of days left to use the mushrooms so I had to get creative for dinner. I had fresh arugula, leftover ricotta from a previous recipe, and freshly baked bread and thought let's see how this goes! And oh my gosh is it good! We've since had it three times and I'm so not over it.
The mushrooms are the star of the dish. Mushrooms are sauteed over medium heat with a splash of avocado oil, garlic, butter, and salt and pepper. This allows the garlic flavor to seep into the mushrooms. As the mushrooms cook, they release their water. Continue to cook them until all the water and flavor are reabsorbed into the mushrooms. You want to capture all of this good flavor. It usually takes twenty-five minutes for the mushrooms to saute.
Afterward, it's all about assembling the toasts. Drizzle fresh bread with olive oil then sprinkled lightly with mozzarella. The mushrooms then go on top of the cheese. Don't skimp on the mushrooms! Add a couple of dollops of ricotta, sprinkle some salt and pepper on the ricotta for taste, and add it to the oven to bake for ten minutes.
The bread will get toasty, the mozzarella will melt, and mushrooms will glisten. At this point, you'll remove the mushroom toast from the oven, place them on a plate, and add a small handful of arugula on each one. Serve warm, recommended with a glass of dry riesling, and enjoy!
Mushroom Arugula Toast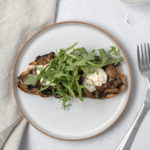 Print This
Ingredients
24 oz crimini mushrooms, cleaned and sliced

6-8 garlic cloves, peeled and sliced

1/2 tbsp avocado oil

2 tbsp unsalted butter

salt and pepper to taste

4 large slices of bread

a drizzle of olive oil

1/3 cup mozzarella

1/2 cup ricotta

1 cup arugula to garnish
Instructions
Start by cleaning and slicing the mushrooms. Then, begin preheating a large pan over medium heat. Peel and slice the garlic. Add the avocado oil to the preheated pan then add the garlic. Stirring frequently, ensuring not to burn the garlic, cook for roughly two minutes. Add the butter then mushrooms, mixing together until the butter is melted. Continue cooking the mushrooms, stirring occasionally, for roughly 20 minutes, or until all of the liquids released are reabsorbed. Salt and pepper to taste. Remove from the heat.
While the mushrooms are cooking, slice 4 slices of bread or use pre-sliced country-style crusty bread.
Preheat oven to 400F degrees.
Drizzle olive oil onto each slice of bread then top with an evenly distributed sprinkle of mozzarella. Top with a heavy serving of garlic mushrooms. Dollop two to three dollops of ricotta on top. Sprinkle each dollop of ricotta with a little salt and pepper to taste.
Put the mushroom toasts in the oven and cook for 10 minutes.
Distribute the toasts onto the plates. Then add a handful of arugula to each toast.
Serve warm and enjoy!