If you were to look up comforting in the dictionary, this recipe would be sitting right alongside it. Everything about this orecchiette with kale and white beans is comforting. From the humble ingredients to the warm broth, to the noodles paired with beans and vegetables. It's exactly what I crave on a super cold night when I need help warming up.
This recipe is inspired from a recipe at Food52. The original uses bacon and collard greens, which trust me, is amazing. You can find the recipe here. But since we've drastically cut down the amount of meat we eat, I wanted to keep the warm and comfort of this dish by adding more vegetable components.
My version begins with cooking onion until it's almost caramelized, which adds a depth of flavor, which the bacon in the original recipe does. I then add thickly sliced mushrooms to add a meatiness to the dish. Then, I remove the cooked onion and mushroom, leaving some of their juices and flavoring behind, before cooking the kale. The kale cooks down into soft earthy bites in the dish. Similar to collard greens, you want to make sure you flavor the green before it begins to cook so that it can soak it up. This is why adding enough salt is important here. But don't overdo it. You'll later be adding parmesan, which adds additional saltiness to the final dish.
The original recipe calls for cannellini beans, but I haven't always been able to get those easily at the grocery store. So, in place of the cannellini beans, I have often used navy beans which work just as fine. I actually prefer them since they're a tad smaller so I'm finding them in each bite.
I absolutely love this dish. It's hearty, filling, and so comforting, yet filled with healthy vegetables, like kale and mushrooms. Especially now when kale is in season, I highly recommend making this orecchiette with kale and white beans that has become a staple in our home.
Orecchiette with Kale and White Beans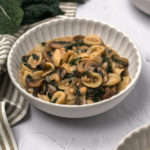 Print This
Ingredients
1 1/2 cups orecchiette

4 cups vegetable stock, divided

2 tablespoons of unsalted butter, divided

1 medium yellow onion, thinly sliced

3/4 pound mushrooms, cleaned and sliced

1 teaspoon of olive oil, if needed

4 garlic cloves

1 large bunch of dino kale

1 (15.5-oz.) can navy or cannellini beans, drained and rinsed

Kosher salt and freshly ground black pepper to taste

3/4 cup shredded Parmesan, plus more to serve
Instructions
In a medium-sized bowl, add the orecchiette and cover it with 1 1/2 cups of vegetable stock. Stir to ensure the pasta doesn't stick together, occasionally check on it and doing the same until it goes into the pot to cook.
Begin heating a dutch oven while you slice the onion and mushroom. Once warm, add 1 tablespoon of unsalted butter. Melt the butter then add the onions. Cook the onion, stirring occasionally, over medium heat until they're translucent and beginning to turn golden in color. Add the mushrooms and one teaspoon of olive oil. Continue to cook over medium heat. Add salt and pepper to taste. Cook the mushrooms down until medium-soft in texture. 
While the onions and mushrooms are cooking, mince the garlic. Clean, strip, and cut the kale into small three-inch-long strips that are 1/4 inch thick. It'll look like you have way too much kale, but don't worry. The kale cooks down quite a bit.
Once the onion and mushroom are done cooking, using a slotted spoon, remove them from the Dutch oven and set them aside in a small bowl.  You want to leave any extra juices from them in the dutch oven. If there aren't any juices, add half of a tablespoon of olive oil. Add the garlic and cook for a minute or two until tender and fragrant.
Add the remaining 2 1/2 cups of vegetable broth, kale, and salt and pepper. This is where it's important to add enough salt and pepper to the dish.  I typically start with a large pinch of each. Turn up the heat to high and allow it to begin to boil. Once it's boiling, turn down the heat until you have an active simmer. Add the rinsed beans and stir them in. Allow the mixture to cook, partially covered, for 30-35 minutes until the kale is tender and the liquid has reduced to roughly 1 1/2 cups.
Taste test the kale and ensure that it's flavorful. If not, add an additional small pinch of salt. Add the orecchiette along with the soaking broth. Turn the heat back up to medium-high and while continuously stirring, cook the pasta until al dente, roughly 10 minutes. Add the cooked onions, mushrooms, and butter, stirring until the butter is completely melted. Turn off the heat and add the Parmesan, stirring until fully incorporated.
Serve into bowls and top with a sprinkle of more Parmesan, if desired.
Enjoy!