Potato latkes are simply delicious. They're savory fried pancake-like pieces of gold. Latkes are traditionally made of shredded potatoes, matzo meal or flour, egg, and flavored with onion. The outside is crunchy while the inside is soft and practically melts in your mouth. 
Although potato latkes are known for being served during Hanukkah, latkes have a longstanding history in Eastern Europe as an affordable filling meal. They're usually served with applesauce, horseradish, or roasted beets.  Latkes are also the perfect warm side dish alongside roasts or paired with an over-medium egg for breakfast.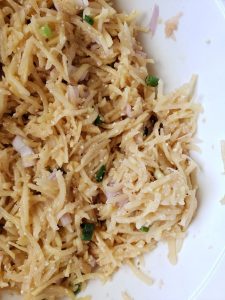 There are so many varieties these days, with sweet potato latkes becoming a new trend. But personally, I prefer classic potato latkes. There's something beautiful about the simple humble potato that I enjoy. It's the star of the dish in these and I love that. I personally like to eat my latkes with a side of applesauce. It's a great pairing to balance the saltiness of the latke with the sweetness of the apple. 
These potato latkes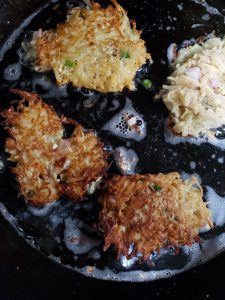 are a combination of a couple of recipes and created the latke consistency I was looking for. I also added shallots and green onions to get the sweet yet savory aspects of onion flavor. This recipe makes roughly a dozen latkes, so it took some time to cook them all in a large cast iron. To ensure that they all remained warm and crisp before serving, I placed them on a baking tray in the oven at 200 degrees. This kept the inside of the latkes warm and tender without drying them out. Keep them in the oven until they're all cooked and ready to serve. If you have leftover latkes, reheat them in the oven to keep the outside crispy. Ultimately, they're best fresh out of the pan just after being fried.
Potato Latkes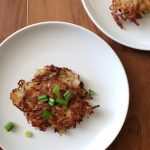 Print This
Ingredients
3 pounds of shredded Yukon Gold potatoes

2 eggs, lightly beaten

1/3 cup finely chopped shallots

1/3 cup finely chopped green onion

5 tbsp matzo ball meal mix

1 tsp ground pepper

1 1/2 tsp salt (additional for taste post-frying)

Some vegetable oil for frying
Instructions
Peel and shred the potatoes. To shred the potatoes, shave time and use a food processor with the grater blade. It's magic. 
Place a raised strainer in a large bowl. Place shredded potatoes in the strainer and let sit for 10 minutes to allow some of the starch to naturally drain.
Discard starch and place shredded potatoes into the large bowl. Add sliced shallots, green onions, matzo meal, beaten eggs, and salt and pepper. Stir together until fully combined. 
Let the mixture sit for 5 minutes to allow some of the starch to extract, adding additional moisture to the mixture. 
While the mixture is sitting for the 5 minutes, preheat the cast iron. Once the entire cast iron is warm, add the vegetable oil. 
Preheat oven to 200 degrees.
Before adding latke mixture to the cast iron, ensure the oil is heated through. I test mine by flicking a little water in the oil. If the oil spatters back at you angrily, it's hot. (PLEASE be careful if you test your oil this way. I have accidentally gotten hot oil on me doing this and it hurts, a lot.) 
Once the oil is heated through, use a large ice scooper to scoop equally proportioned sized latke mixture into the cast iron. Allow the latkes to cook on each side for roughly 5 minutes until golden brown and cooked through in the middle. 
Place cooked latkes on a baking pan in the preheated oven. Continue to place cooked latkes on baking pan in the oven until all latkes are fried to keep them warm and crispy.
Serve piping hot out of the oven and enjoy!