I've always been a fan of refried beans. On a tostada, as a base for a taco or burrito, or as a side dish; I'll take them anyway! They're versatile, filling, and delicious. But there's typically a lot of fat and sodium in them, leaving me past the point of filled and feeling more weighed down after I eat them. But since I love them so much, I wanted to find a healthier option. I decided black beans were a great healthy option.
I've always enjoyed black beans. Black beans are a healthy legume. A half-cup has roughly 7 grams of fiber and protein, along with calcium, iron, and phosphorus. These help with joint and bone health. Black beans also have phytonutrients, which have antioxidant effects. 
For my pureed black beans, I wanted to ensure I had a clean low-sodium low-fat option compared to the fatty classic refried beans. I like using dried beans in general, so I started with dried black beans. To save money, I buy dried beans from the bulk section of my grocery store. I took my beans and soaked them for 6 hours. I soak my beans in a Nalgene water bottle for ease in measuring and convenience. Plus it's a simple way to soak beans while on the road or camping. Beans can be soaked in practically anything though, as long as the beans are completely covered by water.
After soaking my beans, I drained them, added them to a pot, and topped them off with water. While cooking the beans, make sure they're constantly covered with water. I discovered that they absorb water quickly while boiling. Avoid them from drying out by making sure they're covered with water the entire time they're being boiled.
Once the black beans were done boiling, drained, and rinsed, I transferred them into a food processor to blend them into a puree. If you don't have a food processor though, no worries. I have done similar recipes in the blender and it worked just fine. I added the Better Than Bouillon vegetable broth, water, and spices then blended the beans into a puree. Once pureed, they're ready to serve. I reheat leftover puree on the stove using low heat and only cooking for a couple of minutes.
Black Bean Puree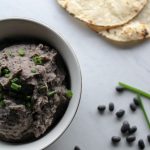 Print This
Ingredients
2 cups dried black beans

1/2 tbsp vegetable broth

1/4 tsp paprika

1/4 tsp dried onion

1/4 tsp cayenne

Water
Instructions
Soak one cup of dried black beans for 4-6 hours. (I soak my dried beans in a Nalgene bottle. I fill water a couple inches above the dried beans, close the lid, shake it up, and let it do its thing.)
Drain the water from the beans and add beans to a pot. Again, add water to the beans, filling the water a couple of inches above the beans.
Boil the beans for roughly 35 minutes, never allowing the beans to run out of water. If the water begins to go below the beans, simply add more water.
Drain the beans. Add beans to a food processor.
Add Better Than Bouillon vegetable broth base, spices, and 1/4 cup water to start.
Starting with the pulse button, begin to blend the ingredients. Continue to blend all of the ingredients until fully incorporated and smooth. You can add small amounts of water at a time if you desire the puree to be smoother.
Serve beans warm or store for another time!