There's something truly special about this spent grain bread recipe.  It's as if the bread fills the kitchen with a grain-filled hug as it bakes. The aromas are intoxicating and make you wish for a quick bake as your mouth waters. Especially after a long day of brewing beer. 
The spent grain for this bread is actually from brewing beer. The initial steps of brewing beer include boiling grain to extract their sugars, flavors, and color. Once this step is over in the brewing process, all of the now nutritionless grain is leftover. Some brewers sell it to farms to feed livestock, others simply throw it away, and others use the leftover grains or wort in other ways. Unfortunately, spent grain accounts for roughly 85% of waste in brewing beer.*
Since I try to be sustainably conscious in all that I do, I knew that we couldn't waste all of this precious grain. I had to find a way to convert it into bread. Now, I've converted spent grain into flour, which you can find here, then turned around and made spent grain banana bread. But I was looking for a faster way to make bread for dinner that night so I didn't have time to make the flour.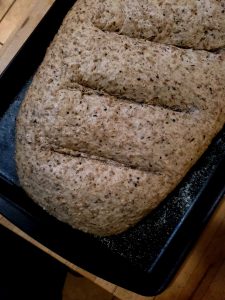 When I found this recipe from the Homebrewer's Association, I instantly knew I had to try it. The recipe calls for wet grain straight after brewing, which I had pounds of! Sustainability plus fresh-baked bread sounds like a good combo to me! With any recipe, I tweaked it just a smidge. Instead of using traditional milk, I used flaxseed milk which I found to work just fine. I also used beautiful olive oil as my grease when placing the dough to rise in a bowl. The most challenging part of this recipe is waiting for the bread to rest out of the oven and cool before slicing into it. 

Due to the addition of fat and protein in this bread from the milk and egg, the bread can go bad fairly quickly. Make sure to store in a cool place, especially in those warm summer months. The bread in a paper bag or a reusable plastic bag.
*Resourced from Craftbeer.com
Spent Grain Bread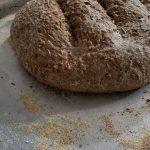 Print This
Ingredients
3 cups of wet spent grain, straight from brewing beer

1 1/4 cups of water (roughly 100-110 degrees to activate the yeast)

1/4 cup sugar

4-5 cups un bleached all-purpose flour

1 tsp salt

1 egg, beaten

1/4 cup flaxseed milk (can substitute traditional cow's milk)

1 packet or 2 tsp of dry active bakers yeast

a sprinkle of corn meal
Instructions
Heat up water to 100-110 degrees.
Mix the water, yeast, and sugar in a bowl. Allow mixture to sit for 30 min to activate the yeast.
Add salt, egg, spent grain, and milk  to the activated yeast. Mix together. Continue to mix and slowly add flour one cup at a time. I typically find that I add 4 cups of flour at this stage. I add an additional 1/2-3/4 of a cup of flour during kneading to flour the surface and my hands
Knead dough until it is smooth and has elasticity. You should be able to stretch a bit of dough without it splitting.
Place dough in a large greased bowl and cover it with a towel.
Wait for dough to rise and double in size, roughly 30-60 minutes depending on the temperature of the room.
Once doubled in size, punch down the dough.
Sprinkle baking sheet with cornmeal.
Split your dough into a desired amount of loaves or simply shape one large loaf and place on baking sheet.
Allow dough to rise again, roughly 30 minutes.
After 30 minutes, score the loaves/loaf with a knife.
Bake at 375ºF for 35-45 minutes or until bread is lightly browned.
Let bread sit for 30 minutes to let cool before slicing into it.
Notes
The Homebrewer's Association recommends avoiding roasted malts to avoid a bitter taste in your bread. If you do have roasted malts in your grain mixture, simply add more sugar to balance out the bitterness of the grain.