One of my favorite things about going to a taco shop is snacking on spicy carrots from the salsa bar as I wait for my order. Now a days, we don't really see salsa bars, but doesn't mean we can't order them. And for those of us who aren't going out but still want our spicy carrots, this recipe is for us!
Have you ever eaten so many spicy carrots that you give yourself a stomach ache? I know I have! I absolutely love them. They're tangy, spicy, and have a bit of a bite to them. I add them into tacos, pair with eggs for breakfast, and dunk them into guacamole.
Making them at home is easy to do too. The longest process is softening and marinating the carrots themselves. You want the flavors of the garlic, oregano, jalapenos, and onions to soak into the carrots. Infusing the flavors really enhances the carrots and gives them that classic flavor we all know and love.
And if you want your carrots extra spicy, add an extra jalapeno or even slice up a serrano pepper. Also, food for thought, if you make these using rainbow carrots, the liquid will turn pink from the purple carrots. They all become beautifully colored and still have that classic spicy carrot flavor.
Serve these spicy carrots alongside tempeh nachos, with poblano mushroom tostadas and veggie tacos on taco Tuesday, or as an appetizer with a margarita in hand. They last for a week in the fridge in an airtight container, but they will continue to get spicier as they sit if you add the jalapeno.
Spicy Carrots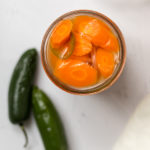 Print This
Ingredients
1 lb carrots, peeled and sliced

1/3 yellow onion, sliced

1-2 jalapeno, sliced

1 1/3 cup water

1 1/3 cup vinegar

1 1/4 tsp oregano

1 clove garlic

2 tbsp salt

2 tbsp sugar
Instructions
Peel and slice the carrots. Slice the onions and jalapeno.
In a pot over medium-high heat, add the water and vinegar. Bring to a soft boil. Add the oregano, garlic, salt, and sugar. Stir until the sugar and salt are dissolved. Reduce the heat to medium and add the carrots, onions, and jalapenos. Lightly boil the mixture for 15 minutes. 
Pour the spicy carrots in an airtight container and allow them to cool. Once completely cooled, top it with the lid and put them in the fridge to continue to marinade overnight. Eat the next day and enjoy them all within a week.
Enjoy!