In my mid 20's I would get buffalo chicken tenders takeout once a week. I would order extra so that I could have leftovers for lunch for a couple days too. I couldn't get enough of the tangy spice. And although I'm no longer getting buffalo chicken tenders to-go, I often crave that tangy spicy goodness that comes with the territory. So, since we're not eating much meat these days, I made buffalo tofu bites.
My buffalo tofu bites have all the same tang and spice you expect from buffalo chicken. But these bite-size tofu pieces are perfect for your Superbowl get-together (when we're not in a pandemic), topped on a salad, or made into a wrap. My favorite way to eat these is wrapped with lettuce, blue cheese, and a little extra buffalo sauce.
For the buffalo sauce, I've chosen Crystal Louisiana's Pure Hot Sauce. It's their original hot sauce and my favorite for anything buffalo. The tang and spice combination are spot on. Add a little melted butter and you have the perfect buffalo sauce. You can use your favorite Louisiana hot sauce in place of Crystal if you prefer, like Frank's.
Something I love about this recipe is how easy it is to make. So easy that I'm able to whip up a batch for a quick lunch during the week when my schedule can be crazy. You allow the tofu to marinate in the hot sauce. Half an hour later, make your starched buffalo sauce, mix it all together, and throw it in the oven on a baking sheet. It has the ease of a one-pan meal.
Tofu Buffalo Bites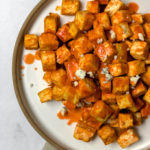 Print This
Ingredients
1 container extra firm tofu, dried and cubed

1/3 cup Crystal Louisiana's Pure Hot Sauce, plus an additional 1 tbsp

3 tbsp corn starch

1 tbsp unsalted butter, melted
Instructions
Begin by drying out your tofu. Remove it from its container with the liquid, wrap it in a couple of paper towels, and place a plate or bowl on top of it. Allow it to sit for at least 10 minutes. 
Cube the tofu and place it in a bowl. Pour 1/3 cup of Crystal on top of the tofu. Gently, using a spatula, ensure all of the tofu is coated by the hot sauce. Put it in the fridge and allow it to marinate for 30 minutes. 
Preheat the oven to 400F degrees.
In a small bowl, mix together 3 tablespoons of corn starch, 1 tablespoon of Crystal, and 1 tablespoon of melted unsalted butter.
Pour the tofu and remaining Crystal into a large Stasher or plastic bag. Add the corn starch mixture. Shake it all together so that the tofu is fully coated. Pour the coated tofu on a parchment-lined baking sheet. Make sure that the tofu is separated so that it has room to crisp up. Put it in the oven and allow it to bake for 30 minutes, or until the tofu has a slightly crisp outside.
Remove from the oven and allow the tofu to cool just slightly before serving.
Enjoy!