As an avid hiker, I'm always on the search for a good trail.
I'm one of those types of hikers that love to constantly snack. Since my body doesn't handle large amounts of food during or post-exercise, I need to ensure I'm snacking along the way. Plus, snacks just taste better while hiking. And when I'm not munching on goldfish, trail mix is my go-to source for a little crunch, protein, and some sugar.
Although we're currently not on the trails due to the worldwide pandemic, we do have the extra time to experiment with different nut and fruit combinations. Trails or no trails, trail mix is a great snack while hanging around the house or a workout pick-me-up.
For me, there are two things that have to be in a trail mix for me to consider it good; almonds and pumpkin seeds. Not only do I love the flavors of them, but they're nutritionally dense. They both pack a punch with protein, fiber, and carbohydrates. Plus, it's important to have some of your favorites along the trail with you. Your snacks become something to look forward to while on a daunting trail.
I also like some dried fruit in my trail mix for the sugar and sweetness it adds. I prefer dried apricots, strawberries, mango, and raisins. Although many have added sugar, I don't use those types of dried fruit. Instead, I use dried fruit that has no added sugar or that I've dehydrated myself.
For a little extra treat, I sometimes add chocolate chips to my trail mix. Now, this is not a good idea on an extra hot day or exposed trail in which your trail mix will be in the sun the entire time. But on cooler days with shaded parts of the trail, a few chocolate chips go a long way to making an ideal trail mix. I prefer Enjoy Life's clean, dairy-free dark chocolate chips.
This is my preferred combination, but feel free to mix it up. Use this recipe as a guideline. If you don't have almonds, add your favorite nut. If you don't have pumpkin seeds, replace them with sunflower seeds. Dice up larger dried fruit pieces like sliced mango and apricots to make them bite-sized. Get creative and have fun with it!
Go-To Trail Mix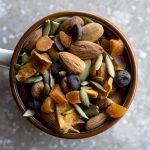 Print This
Ingredients
1/3 cup almonds, raw and unsalted

1/4 cup pumpkin seeds, raw and unsalted

1/4 cup dried apricots, no-sugar added

1/3 cup dried mango, no-sugar added

1/8 cup dark chocolate chips, or more to your desired preference
Instructions
Cut dried apricots into small, bite-sized pieces. Using scissors, do the same to the dried mango.
Add all ingredients together into a small bowl and combine.
Put in an airtight container to store.