Camping is one of my all-time favorite things! So when my boyfriend suggested we go camping this past weekend I couldn't be more excited. I started thinking of our adventure to come; offroading, exploring a dessert I wasn't familiar with, a slot canyon hike, waking up with the sun, and ending the days sitting fireside. My daydreaming lead me to where it usually leads me…what delicious food was I going to eat?
For me, cooking while camping forces me to get even more creative with the use of little space, lots of fire, and the inevitable exhaustion at the end of a day of exploring. Meals need to be quick, easy, pack a punch of flavor, and still be delicious and nutritious. This is why one of my favorite breakfasts to bring along car-camping is overnight oats.
Overnight oats are a one-container meal, providing the carbs, fat, and protein wanted to for a day of adventure. These oats ensure that I'm not starving halfway through a hike or have low energy. The base overnight oat recipe is simple and easily manipulated to fit different taste preferences or simply mix up to have a different flavor every day. The overnight oat base recipe include oats, milk, and chia seeds.
Since I was craving oatmeal raisin cookies, I made this version. But, if raisins aren't your thing, you could add dried cranberries, apricots, or blueberries.
Oatmeal Raisin Overnight Oats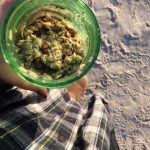 Print This
Ingredients
1 cup quick oats (I used gluten-free oats)

1 cup milk (I used lactose-free reduced fat milk)

3 Tbsp chia seeds

1/4 cup raisins

1/2 Tbsp cinnamon

1 tsp maple syrup
Instructions
Add raisins, cinnamon, syrup, chia seeds, and oats to mason jar and stir.
Add milk and stir.
Put on the lid and let the mason jar sit in the fridge. For best results, let oats sit overnight.