I grew up on Mexican food. Whether it was chorizo, enchiladas, tostadas, tamales, or tacos, we ate it. We ate Mexican food at least once a week for dinner in my house growing up. As I got older, I would search out for the best 'hole-in-the-wall' authentic restaurants to find the best of the best. This is still a constant for me. I'm always searching for the best of the best in whatever city I'm in. Lucky for me, I found the best tacos al pastor I have ever had in the unexpected…Berlin.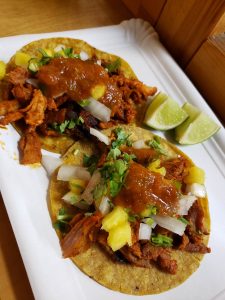 When first traveling to Berlin for a month, I was concerned about how much I would miss my weekly (at least) Mexican food dinner. But once I got to Berlin, I was happily surprised. I found a grocery market filled with traditional ingredients from Mexico. There are also two tortilla factories within the city. But my favorite find; the incredible people and tacos al pastor from Los Trompiras at Markt Halle Neun on Thursday nights. 
These tacos are not only good, they're INCREDIBLE. When I say they're the best tacos al pastor I have ever had, I am not exaggerating. The meat is tender and juicy. The flavor is sweet, spicy, and everything you want from tacos al pastor. The meat's then topped with white onion, cilantro, pineapple, and Los Trompiras' homemade salsa verde. Every week I came back for these tacos. Every week these people and these tacos became my weekly fix of Mexican food and back home comfort.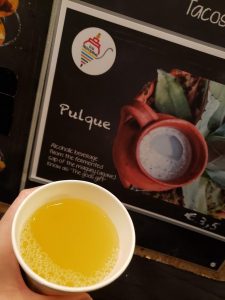 I also discovered their mango pulque. Pulque is an alcoholic drink made from the fermented sap of the maguey plant. It's low in alcohol, similar to a light beer or kombucha, but tasted sweeter. It was great to enjoy it alongside the tacos al pastor, adding to the sweetness of the pineapple. The pulque reminded me of one of my favorite drinks back home, pruno de pina. In a pruno de pina, fermented pineapple is added to beer in a spice rimmed glass. 
They also sell their salsa verde! You can taste the fresh tartness of the tomatillos in the salsa and the care that goes into each jar. Their salsa is the perfect addition to eggs in the morning; allowing me to continue making my go-to breakfast. I was also able to take home a jar of their al pastor marinade to make something special, linked here!
If you're ever in Berlin, you must visit my new friends at Los Trompiras. I'm already in anticipation of my return!