Warmer days instantly make me think of BBQs in the backyard. As far back as I can remember, BBQs have been special in my family. Looking back and being old enough to now understand, BBQs truly are special. They're slower and more simple of times with family, enjoying time and the sunshine outside. I remember large family gatherings as a young child and the joy of everyone eagerly waiting for dinner to be served. I remember summers filled with countless BBQs as we sat out back by the pool, eating as fast as we could so we could jump back in the pool. 
With the return of warm sunny days and feeling nostalgic, I was craving the smell of the grill and fresh burgers. Luckily we had meat, but no buns. So, I got creative and made my own burger buns. Turns out, making your own is quite simple and satisfying. There's also little to no kneading with the addition of a standing hand mixer, which is nice when making bread. Honestly, I don't think we'll go back to store-bought burger buns every again.
I was originally inspired by King Arthur Flour's bun recipe. I wanted to make it healthier though, so I removed some of the sugar, added in some whole wheat flour, and reduced the amount of fat added. Turned out far better than any whole wheat bun I can find in the store. Plus, it's clean ingredients without the addition of preservatives or an ingredient list I can't pronounce. Due to no preservatives though, the burger buns last about five days before they become dried out and crumbly.
I served our buns with quarter-pound beef burgers and turkey burgers with a side of peppered potatoes. Like BBQs of the past, we sat outside as a family and enjoyed the simplicity of a good meal outside together. Days like these are the ones I'll remember from this pandemic, the happiness that came from the simplest of things.
Burger Buns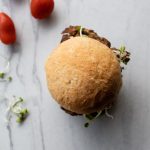 Print This
Ingredients
3 cups all-purpose flour

1/2 cup whole wheat flour

1 egg, at room temperature

2 tbsp unsalted butter, at room temperature

1/8 cup sugar

1 1/4 tsp salt

1 tbsp activated dry yeast

3/4 to 1 cup of water, 105 degrees

1 1/2 tbsp unsalted butter, melted
Instructions
Using the bowl of a stand mixer, add all the ingredients except for the 1 1/2 tsp melted butter. Using the dough hook, mix ingredients together for eight minutes. This helps activate the yeast and build up the gluten in the dough.
Leaving the dough in the bowl, cover the bowl with plastic wrap and allow the dough to rest for one to two hours or until doubled in size.
Once doubled in size, gently work with the dough to split it into 12 pieces. To ensure uniformity in size and baking, use a scale.  Gently shape each piece into a ball and place on one of two parchment paper lined baking sheets. Cover each baking sheet with plastic wrap for roughly an hour, allowing the dough to rise again.
Preheat oven to 375 degrees.
Melt the remaining 1 1/2 tbsp of unsalted butter and gently brush onto the tops of the shaped buns.
Bake in the oven for 15 minutes, until golden brown on the top and bottom.
Allow buns to cool on a baking rack before slicing and serving.