With the heat of summer and the desire to keep meals light and fresh, I've been cooking a lot more vegetarian meals. My body has been craving the extra greenery, in search of more energy. Because of this, I've been inspired a lot by Mediterranean cooking. The freshly ripened tomatoes, the use of good olive oil, salty capers, and lots of herbs. They're exactly what my body's been craving while packing a flavor punch. My first Mediterranean recipe of choice to perfect; the falafel.
Falafel is made of soaked garbanzo beans blended with herbs and garlic shaped to form small yet thick discs. The discs are then fried or baked. But let's be honest, they're best fried. Falafel is great in salads, a sandwich, with scrambled eggs for breakfast, or as the shining star for dinner.
My fiance and I really enjoy eating falafel, it's actually one of his favorite things to eat. My family on the other hand hadn't had falafel before I made it last week. Mom and brother liked it, but my dad's reaction was the biggest surprise. Not only did he like it, he loved it! He even went back for thirds! Now he calls falafel the 'green biscuit things'.
These falafel are inspired by The Complete Mediterranean Cookbook. It's a great book with a lot of delicious recipes. (I also recommend the eggplant and tomato roasted orzo.) I've changed my falafel by adding more garlic, less parsley, and fry them in avocado oil. It's also easy to double the recipe and store the leftovers in the freezer. I did this last time and we've been enjoying it for lunch the past couple of days. I even added two falafel in scrambled eggs for breakfast. They reheat best in the toaster oven because they keep their crunchy fried crust, but heat up fine in the microwave too. 
Falafel is great with homemade tzatziki, vegetable kabobs, and some orzo or basmati rice. I Like to add all these on top of a bed of lettuce and use a spoonful of hummus as my 'dressing'. It's the perfect light yet filling summer meal.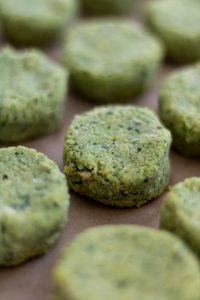 Falafel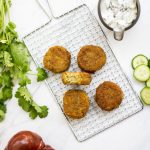 Print This
Ingredients
3 tbsp kosher salt

2 cups dried garbanzo beans, rinsed

10 scallions or 2 green onions

1/2 cup fresh parsley

1 cup fresh cilantro

6 garlic cloves

1/2 tsp cumin

1/8 tsp cinnamon

1 tsp salt

1 tsp pepper

avocado oil
Instructions
Add 3 tablespoons of kosher salt to 4 quarts of cold water. Add garbanzo beans, stir, and soak at room temperature for at least 8 hours.
After soaking for at least 8 hours, drain and rinse the garbanzo beans well.
Process garbanzo beans, scallions or green onions, parsley, cilantro, garlic, cumin, cinnamon, salt, pepper in a food processor until smooth.
Scoop 2 tablespoons of mixture into your hand and shape into discs, roughly 1 inch thick. Place shaped falafel onto a parchment-lined baking sheet. Once all of the falafel are shaped, place the baking sheet in the fridge for 1-2 hours.
Heat oil in a 12-inch skillet or cast iron (I prefer cast iron) and heat over medium heat. As the oil is heating up, preheat the oven to 200 degrees with a wire racked baking sheet.
Once the oil is thoroughly heated, cook half of the falafel for 3-4 minutes on each side or until golden brown. Place cooked falafel on the wire racked baking sheet in the oven to keep warm while you cook the second half of the batch.
Serve warm!