Hummus is one of the oldest foods around. Due to its old history, it's hard to determine where hummus originally came from, but one thing is for sure, it's delicious. Prepared in a number of different ways; hummus can be chunky, full of flavors, or smooth and creamy. Although commonly a side dish or spread in the US, hummus is traditionally the main dish in the Middle East. Often eaten on its own with a spoon or scooped up with a side of naan, it's smooth, creamy, and not as thick as storebought hummus. I have been loving my version of Israeli hummus as the main star of my plate.
Hummus is an Arabic word meaning 'chickpea'. Makes total sense! Hummus is chickpeas, or garbanzo beans, cooked and mashed with olive oil and tahini. To create a smooth and creamy hummus-like that of Israeli hummus, the cooking and mashing of the beans is a longer process than some, but worth it.
This recipe starts a whole day in advance. It sounds crazy, but this really does help with the texture of the hummus. Simply add a cup of beans to a 4-quart bin, add the salt, and cover with warm water. I sometimes do this with two cups of beans so that I already have a batch soaked, making it easy to make another batch of hummus later in the week. Just make sure you keep those presoaked beans in the fridge. After being soaked, the beans are cooked with some baking soda to soften the skins even further. This is essential for that extra smooth texture. 
From making multiple batches, I've discovered the quality of tahini makes a huge difference. Good tahini has an earthy nutty sesame seed flavor. You also don't want tahini with extra fillers like additional oils. My favorite to use is Once Again Organic Tahini because it's made from only sesame seeds and has such a great flavor. 
My research on hummus surprised me. It's common for hummus to be eaten right after it's made and still warm in areas other than the US. And honestly, I never want to eat hummus cold again. It's so much more creamy and feels more like a meal itself. Try it, trust me, you'll love it!
Israeli Hummus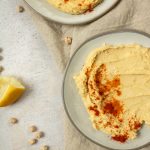 Print This
Ingredients
1 cup garbanzo beans

3 quarts of warm water

3 tbsp of salt

1 tsp baking soda

1-2 tbsp garbanzo bean cooking water

3 tbsp good olive oil

1/4 cup tahini

1 large lemon (or 2 small lemons), freshly juiced

additional salt to taste
Instructions
Take 1 cup of dried garbanzo beans and soak them in 3 quarts of warm water. Stir in 3 tablespoons of salt to create a brine. Cover and allow the beans to soak for 24 hours.
Drain the garbanzo beans and place in a large saucepan. Cover with enough water to create 2 inches of water above the garbanzo beans. Add the baking soda. Bring to a light boil over medium-high and cook for 30 minutes, or until entirely soft.
Strain the garbanzo beans from the cooking liquid, but make sure to keep the cooking liquid. You'll need this for the hummus. Still warm, add all of the cooked garbanzo beans to a food processor.
Add olive oil, tahini, the juice of 1 large lemon,  and 1 tablespoon of the garbanzo bean cooking water. Begin by pulsing then allow the ingredients to blend for 3 minutes. Check consistency. It should be a soft smooth creamy texture. If not, add another tablespoon of the garbanzo bean cooking water. Add salt to taste, roughly 1-2 teaspoons.
Serve warm!