I had no idea how much I loved mangos until I went to Hawaii, especially mango salsa.
Of course, the first thing on my mind when I landed in Hilo, Hawaii was FOOD. So the first thing we did was check out a highly-rated local lunch spot for some fish, lamb, and curry rice with some lilikoi juice. Although my stomach was happy and almost full, I knew the next stop had to be the Hilo farmers market just a couple of blocks away.
The smell of tropical fruit became intoxicating as we entered the farmers market. Local farmers were all lined up selling bananas, papaya, passion fruit, litchi, and mangos. The mangos were bright, popping with colors of yellow and red, and smelled sweeter. I stopped at one booth to check out the Thai chilis, excitedly thinking of spicy food recipes. In the middle of the hustle and bustle of the market, I was greeted by a curious gecko relaxing on a pole. We ended up seeing several of his friends during our trip. I left the market with Thai chilis and a few perfectly ripened mangos, brainstorming on what to do with my fresh treasures.
The first bite of the mango was juicy, sweet, and had a melt in your mouth texture. Diced red onion, red bell pepper, and mango, mixed with cilantro, fresh lime juice, Thai chili, and a pinch of salt made the perfect spicy-sweet island salsa. It was not only good with chips, but the perfect topping for fish tacos and addition to locally caught tuna to make poke. I'm not sure how many batches of salsa we made while we were in Hilo. But, I couldn't get enough of it!
My mango salsa is packed with Vitamin C! And good for me, vitamin C is essential for traveling. It ensures the immune system is working properly while possibly losing sleep, going on adventures, and traveling on a plane. Mangos and bell peppers are the vitamin C heavy hitters in this salsa. In fact, one large bell pepper contains 600% of your daily value of vitamin C. Mangos are also high in fiber, pectin, and antioxidants that can help lower cholesterol and help with digestion.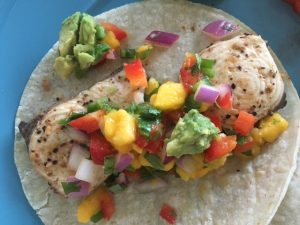 I highly recommend using this salsa on top of fish tacos. The freshly caught Ono purchased from a local organic market in Hilo was delectable and made for the perfect taco! After topping it with Chef Paul's Island Stylin seasoning, we sauteed each side for a couple of minutes. I'd also suggest mixing this salsa into poke and to top avocado toast with it.
Mango Salsa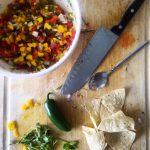 Print This
Ingredients
1 juicy ripe mango, diced

1/2 red onion, diced

2 red bell peppers, diced

1 medium lime, juiced

1 large handful of cilantro

1 thai chili (optional), finely chopped
Instructions
Begin by adding diced ingredients into a larege bowl and mix together. Add the lime juice and mix, then slowly add the finely chopped thai chili for heat. (I recommend adding a little thai chili at a time due to how hot they are and tasting the heat level as you go.) Finish off by gently mixing in the cilantro. Serve with tortilla chips and dive in!