We're heading out on the road again soon which means lots of meal prep over the next couple of weeks. When we go camping, we like to really get away from everything. We tend to try to camp on BLM or National Forest land instead of campgrounds. So that means we need to be prepared and entirely self-sufficient. Especially with the ongoing pandemic, we'll be avoiding grocery stores and contact with others. To help with this, we're premaking and dehydrating a bunch of my red lentil marinara.
This is such an easy and quick recipe to whip us. On a chilly day for lunch or a vegetarian hearty dinner, this red lentil marinara is perfection. It saves well in the fridge if you make a bigger batch, but also dehydrates well for camping or backpacking trips.
This marinara has quickly become a favorite pasta dish for us. The flavor is earthy and comforting, but it's also healthy. The red lentils are heavy in fiber and protein, leaving our stomachs satisfied after a day of hiking. It's perfect for a cold night at home too, warming you up from the inside. 
This red lentil marinara is as easy as it gets. You add all the ingredients to the pot, bring to a boil, reduce it down to a simmer and let it do its thing. I love recipes like this. Not only is it easy, but the flavors really come through during simmering. If you want to add a little spice, add a teaspoon of red chili flakes. My base is water, but you could use vegetable stock as your base instead. I have done both and prefer water. It lets the added spices and tomato shine. 
This marinara is a fairly thick marinara due to the red lentils, which gives is a meaty marinara feel. This is best for dehydrating as well. If you prefer a more saucy marinara though, add one cup of the red lentils instead of the one and a half cups. Tips on dehydrating, click here!
Red Lentil Marinara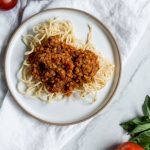 Print This
Ingredients
2 14.5 oz cans of whole tomatoes

1 cup tomato sauce

3 cups water or vegetable stock

2 tsp dried basil

2 tsp dried oregano

6 cloves of garlic, minced

1 1/2 cup dried red lentils

1/2 tsp salt
Instructions
Place all ingredients into a large saucepan and bring to a boil.
Reduce heat to a simmer and cover. Let the red lentil marinara simmer for 15 to 20 minutes.
While the marinara is simmering, bring another large pot of water to boil. Add pasta and cook until al dente.
Serve marinara over cooked pasta and enjoy!
To dehydrate –  Place the marinara in the dehydrator and dehydrate at 135 degrees for at least 12 hours.