I love a good granola. It adds the texture I crave with yogurt, acai bowls, and smoothies.
Finding the perfect granola can be a challenge though. I often find the store-bought kind to be filled with sugar and ingredients I'm not comfortable eating. So I took it to the kitchen and decided to make my own. Many years ago, I used to make my own, but since then have lost my recipe. So I took what I vaguely remembered and started researching on some of my favorite food blogs for inspiration.
Although my previous recipe included gluten-free quick cook oats, I have decided to change the oats I use. I'm using Coach's Oats Whole Grain Cracked and Toasted Oats. I like the texture that this oat created and the crunch it brings to the granola. It also clumps together well, which I really enjoy. Those clumps of goodness are like little clumps of gold in granola. To make this a gluten-free granola, simply swap out the oats for gluten-free quick-cooking oats.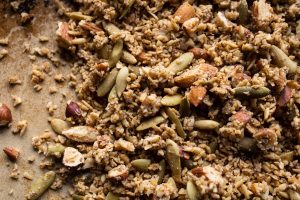 I typically eat granola on yogurt, pairing it with fruit. Right now I'm using dehydrated strawberries as my fruit since I dehydrated a bunch and don't have any fresh fruit in the house. Plus, it tastes delicious. (For more on using a dehydrator, click here.) I also plan to eat my granola with warmed flaxseed milk, turning it into a sort of oatmeal mixture for these cold rainy mornings.
I used seeds and nuts that I already had, but you can replace them for others that you have in your pantry. The key is to use raw unsalted nuts and seeds. You can also add dried fruit if you prefer it in your granola, but I would add this after you've baked the oats to prevent it from burning or becoming too dried out. I like to add golden raisins, cranberries, dates, and figs to mine when I have it on hand. But get creative! Once you have a good base recipe like this, you can play around with different flavor combinations.
Rising Sun Granola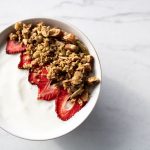 Print This
Ingredients
2 cups Coach's Oats whole grain cracked and toasted oats , or gluten-free quick-cooking oats

1/2 cup almond flour

2 tbsp flaxseed meal

3/4 cups of diced raw almonds

1/2 cup diced raw hazelnuts

3/4 cup raw pumpkin seeds

2 1/2 tsp cinnamon

1/4 tsp salt

1/4 cup coconut oil

1/3 cup pure maple syrup

1/2 tsp vanilla
Instructions
Preheat oven to 300 degrees.
Using a sharp knife, dice raw hazelnuts and almonds into smaller pieces. Set aside.
In a large bowl, mix together oats, almond flour, flaxseed meal, cinnamon, salt, pumpkin seeds, hazelnuts, and almonds.
In a small saucepan, melt coconut oil with pure maple sugar and vanilla on low heat. Stir continuously as it melts. Should only take a couple of minutes as the coconut oil melts quickly.
Using a spatula, add the liquid to the oat mixture and mix together until the oats are fully covered.
Evenly place granola on a large stoneware baking bar pan.
Put the pan in the oven for 20 minutes. Take granola out of the oven, stir, and place granola back in the oven for another 20 minutes. Take the granola out of the oven and let it cool in the pan.
You can store the granola in mason jars or any air-tight container for a couple of weeks.