Right now we're spending our days at home. A large part of the world is under stay at home orders as we sit out the pandemic, hoping to flatten the curve and reduce the number of people exposed. There's a great deal of confusion and what if's, resulting in many of us searching for comfort, ways to cope, and simplicity. One of my solutions; freshly baked bread straight out of the oven.
Bread is a staple in my house. With five adults in the house, we're going through it fast. We needed to find a way to keep bread in the house while still limiting our time out in public. We also don't want to worry about empty grocery store shelves, which is fairly common these days. This simple recipe is our solution. A bonus to this recipe, we already had all of the ingredients.
My fiance used to make a version similar to this many years ago and thought a no-knead bread would be a great solution for us. This recipe is easy to whip up without spending hours on end kneading the dough. Instead, yeast and time to do the work. When it's warm out the yeast will need less time, but when it's cold out the yeast needs more time. Simply make the dough and set it aside, allowing the yeast to create magic.
This bread comes out airy with a little more chew than that of a typical French baguette. In comparison to a French baguette though, this bread has a much better crust. It comes out as golden-brown and perfectly domed. You know it's done baking when you flick it and it sounds hollow. It's great for sandwiches, toast, accompanying a bowl of soup or salad, or turned into bread crumbs. You can also make this recpe into whole wheat bread by substituting one of the three cups of all-purpose flour for whole wheat flour. For a sweeter post-brewing bread, click here.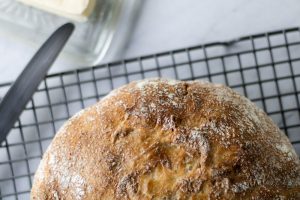 No-Knead Needed Bread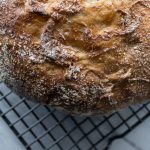 Print This
Ingredients
3 cups all-purpose flour, additional for flouring surfaces

¼ tsp yeast

1 ½ cup water

1 ½ tsp salt

A sprinkling of wheat bran flour

**For whole wheat bread, substitute one of the three cups of all-purpose flour with whole wheat flour.
Instructions
In a large bowl, mix together flour, yeast, water, and salt until just combined. I use a spatula so that I can scrape the dough off of the sides as I mix. The dough will be sticky. 
Cover the bowl with a kitchen towel or plastic wrap. Set bowl aside and allow it to sit untouched for 12 to 18 hours. (The cooler the temperature, the longer the bread will need to sit.)
Once the dough is covered with several bubbles and at least doubled in size, it's ready to be worked. Lightly flour a surface and pour the dough onto the floured surface.  Sprinkle the dough with a little more flour then fold the dough onto itself a couple of times. Loosely place the bread towel or plastic wrap back on the dough and let it rest for 15 minutes.
Prepare a bread towel by flouring a large area of it with flour and then sprinkled with wheat bran. Then, lightly flour your hands before quickly and gently shaping the dough into a ball. The dough will still be very sticky. Place balled dough seam-side down onto the towel. Lightly flour and then sprinkle the balled dough with wheat bran. Cover it with another towel.  Allow the dough to rest for another 2 hours.
At an hour and a half, heat oven to 450. Place a dutch oven into the oven to thoroughly heat the dutch oven. 
At two hours, the dough will have roughly doubled in size. Take the heated dutch oven out of the oven and set it on top of the stove. Warning, the dutch oven will be extremely hot and cannot be held long at all. The heat will transfer through the hot pads.  Place one hand under the towel and turn the dough over into the dutch oven. Shake the dutch oven a couple of times to evenly distribute the dough.
Bake for 30 minutes, covered. After 30 minutes, remove the lid and bake an additional 10-15 minutes until the bread is browned and sounds hollow when you flick it. 
Remove the bread from the dutch oven and cool on a baking rack for at least 30 minutes before slicing. 
The bread will harden if not fully eaten on the first day. To preserve it, slice the remainder of the loaf and put it in the freezer. To heat, simply take a slice out of the freezer and place it in a toaster oven for a few minutes.