Summertime is the best time for beautiful, juicy peaches. Why not make them into something perfect for summer, grilled peach salsa.
There's something about a peach that just screams summer to me! They're ripe, sweet, and intoxicate the air with their aroma. If I pass a stand at the farmers market with fresh peaches I can't help but stop and buy some, instantly eating one as I continue my shopping.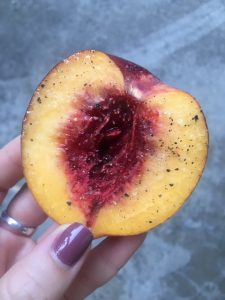 Peaches are low in calories with no saturated fats. Like most fruit, they contain antioxidants and vitamin C. This helps boost the immune system and aid in the building of connective tissue in the body. Peaches also contain flavonoid polyphenolic antioxidants which can be health-promoting compounds that fight against free radicals.
When I think of peaches, I think of my mom's cobbler baking in the oven for a warm summer night dessert with homemade vanilla ice cream. And although I love cobbler, I knew I wanted to try something different with some extra peaches I had before they over-ripened. So I rounded up some of my guinea pigs and told them I was making them dinner.
Once again I was craving my all-time favorite, chips and salsa. I decided to go with my gut, literally, and make a fruity version. Being summer, I knew my salsa had to involve the grill. I love the char and roast the grill gives. Plus for me, grilled food takes me back to some of my favorite memories, big family summer BBQs. So grilled peach salsa it was!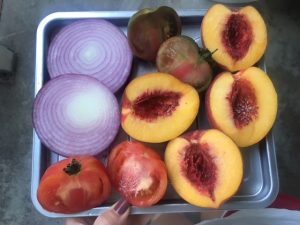 I drizzled on some avocado oil, salt, and pepper onto the peach halves before throwing them on the grill. I also added the red onion that would be used for the salsa and tomatoes for good measure.  Meanwhile, I roasted some shishito peppers. After a little heat and smoke, the peaches and red onion became charred deliciousness.
I let them cool on the counter, allowing the caramelization on the peaches to soak further into the slightly soft peach. I then opened a can of green chilis and added to a bowl.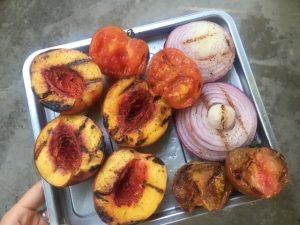 *If you're able, use fresh green chilis! I didn't have any hatch chilis but if I did, I would have thrown two of these on the grill with the peaches and red onion. When you're able to use fresh ingredients, use them. Always.
I diced up the peaches, red onion, and shishitos, added them to the bowl, then squeezed in fresh lime juice. The lime juice brings in an acidic brightness that really helps bring the grilled peach salsa together. I added the cilantro and sprinkled in a little more salt to make this simple salsa complete.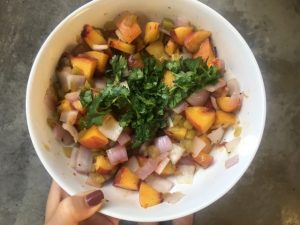 I topped my salsa on some grilled chicken spiced with paprika, cayenne, and cumin, sitting atop a couscous blend. Roasted broccoli and the grilled tomato accompanied the dish.
This salsa would also be good with fish, especially a light delicate fish like halibut. Or you could simply enjoy the salsa with some chips as you sit by the pool.
Grilled Peach Salsa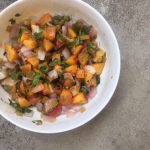 Print This
Ingredients
2 peaches

1/3 of a medium sized red onion

1 tbsp avocado oil

1/2 tsp salt

1/2 tsp pepper

1 4oz can of green chili

5 roasted shisito peppers

1/3 cup diced cilantro

1/2 -1 lime, juiced

Extra salt to taste
Instructions
Start by roasting 5 shishito peppers. Drizzle avocado oil and salt for flavor and roast for 15 minutes at 400 degrees F. Once cooled, dice peppers.
Take 1/3 of the red onion, and slice it in half to create rings of onion. Slice both peaches in half and remove the pit. Drizzle both red onion and peaches with the tbsp of avocado oil and sprinkle the 1/2 tsp of salt and pepper.
Add red onion and peaches to grill, oil side down, for 3 minutes while grill lid is closed. Flip the red onion to cook the other side for another 3 minutes while still continuing to grill the peach. Remove from grill and allow to cool.
Once cooled, dice peach halves and red onion slices.
Add diced peppers, onion, peaches into a bowl. Add canned green chilis.
Mix in diced cilantro, a pinch of salt, and stir all ingredients to combine.
Enjoy!