When it's cold, all I want to eat is soup. I can go days on end eating nothing but soup and be happy about it. I'm even happy with simply drinking a good broth to stay warm on those extra cold days. Although, we don't get many of those in San Diego. But in Berlin in February, it gets cold. Very cold. Snow flakes falling from the sky, layers upon layers to stay warm, give me all the hot liquids kind of cold. So of course I craved soup constantly.
For me, good soup doesn't require hundreds of ingredients. A good soup uses simple, fresh local ingredients that you can taste. In my opinion, it starts with a good broth that can be layered upon. When I found an incredibly fresh just-add-water broth at my neighborhood farmers market, I knew I had to make a soup to warm up my bones. The broth, Swema, is a combination of organic vegetables, spices, and herbs slowly cooked down to bring out their best flavors without additives, fat, or sugar. After my first taste, I went back to the farmers market every week to buy it. (Back home I make soup from Better Than Bouillon broth, typically the vegetable broth.)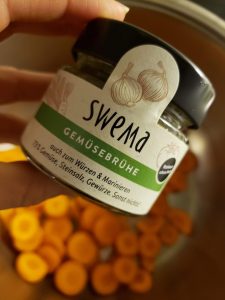 At the same farmers market was a woman who made fresh pasta, including ravioli. She had a variety of fillings available, but the mushroom filled ravioli was perfection. It had actual large pieces of mushroom, not the paste I have come used to. Looking for any excuse to buy fresh ravioli, I realized these would make the perfect addition to soup. Not only would it be delicious, but the cheese in the ravioli would add some needed fat to balance out the soup.
Once home and ready to prep for dinner, I sliced up one very large leek from the farmers market. Seriously, I have never seen such large leeks than the ones at the Prenzlauer Berg farmers market. After slicing leeks, I like to put mine in a bowl of water to thoroughly wash them, leaving them in the water for roughly five minutes. While my leeks washed up in their water bath, I sliced three carrots. I then sauteed the carrots with some butter in a large soup pot (In my own home I would have done this in a dutch oven, but both work.).  Once the carrots slightly began to soften, I drained the leeks and added them to the pot. I continued to cook the carrots and leeks until the leeks became soft and the edges caramelized.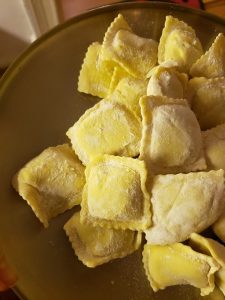 From here I added three liters of water (12 cups) to the pot and the small jar of Swema. I turned up the heat and brought the developing soup to a soft boil. The broth, carrots, and leeks cooked roughly 5 minutes longer, leaving the carrots with a slight bite. I then added the ravioli to the broth and cooked them for 5 to 8 minutes.
This very simple soup was just what I needed for those cold nights, but didn't want to be stuck in the kitchen for hours. Plus, it's not always easy cooking in a new kitchen at an Airbnb with limited kitchen supplies. When storing the leftovers, find anything that will safely and securely hold liquid, but take the ravioli out and store them in either a tupperware or plastic bag. The ravioli will become soggy and mush in leftovers without doing this.
Ravioli Vegetable Soup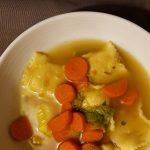 Print This
Ingredients
3 liters (12 cups) of water

1 small jar of Swema or 4 Tbsp of Better than Bouillon (Vegetable variety)

1 large leek, sliced

3 large carrots, sliced

1 Tbsp of butter (I used lactose-free)

1 pound of ravioli (fresh if you can)
Instructions
Begin by slicing the leek into 1/4 inch slices. Place sliced leek pieces in a bowl with water so that the leek pieces are completely covered by water. Set aside. Slice carrot into 1/4 inch slices.
Add Tbsp of butter to pot over medium to medium-low heat. Once the butter is melted, add sliced carrots. Occasionally stir carrots while they cook to ensure they don't burn or over-caramelize. Drain leeks and add to the carrots once the carrots are just beginning to turn tender (roughly 10 minutes).
Once leeks are beginning to caramelize on the edges, add the water and jar of Swema or Tbsp of Better than Bouillon. Stir and bring broth to a soft boil.  Let the carrots and leeks soften further in soft boil for 3-5 minutes depending on the level of tenderness you want your carrots.
While still softly boiling, add ravioli to the broth. Allow ravioli to cook through. (I cooked my ravioli for 5 minutes, but it will vary depending on the type of ravioli used and whether it's fresh dough or not.)
Serve soup with 4 ravioli per bowl and enjoy!
*When storing leftovers, be sure to remove the ravioli and store separately so that ravioli aren't soggy.