Brewing beer is an all-day process, but a fun one! Last Sunday, I brewed beer with my dad and boyfriend. It was a day of drinking beer, talking about the science that goes into brewing, and the house being engulfed by the smell of warm grain, hops, and sugar. We brewed a German hefeweizen. This called for a German pilsner malt and white wheat grain build. The grains spent hours on the stove, extracting their sugars and flavor.
After hours of extraction, there were pounds of spent grain. Although we had extracted a lot of their sugars, it still smelled and tasted sweet. It reminded me of oatmeal. Looking at the pounds of possible waste, I knew I couldn't just throw it away. There had to be a way to reuse it. After some online research, I knew I had to turn the spent grain into flour.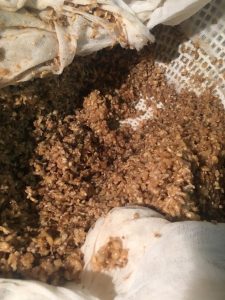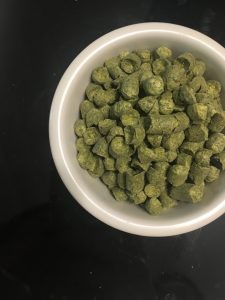 During my research, I was inspired by the Brooklyn Brew Shop. They work on sustainability while brewing. Many of the spent grain recipes I looked at, including theirs, included the spent grain in the form of flour. So into the oven, my wet spent grain went to dry out. The oven was at a very low 170 degrees. I also stirred the grains every couple of hours, ensuring they wouldn't burn. After seven hours, they were dry and crunchy. Honestly, it tasted just like Grape Nuts cereal!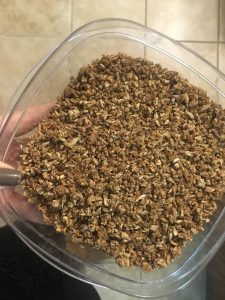 Once it completely cooled, I used my spice grinder to turn it into flour. The flour is rich in fiber and protein since the grains themselves were. This makes the spent grain flour a good complement to all-purpose flour.  The flour adds a depth of flavor with notes of caramel and nuts. It's delicious in sweet baked goods like bread, crackers, and brownies.
Spent Grain Flour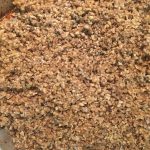 Print This
Ingredients
Spent grain post-brewing (I used 3 pounds of dried grain for brewing, using white wheat and German pilsner.)
Instructions
Preheat oven to 170-200 degrees. (I preferred the lowest temperature in my oven, which was 170.)
Using a large sheet pan, thinly spread out spent grain so that it's not more than 1/3 inch high. (I had to do two separate batches with the amount of spent grain I had.)
Every 2 to 3 hours, pull the tray out and stir up the grain.
After 7 hours (time may vary), spent grain will be dried, crunchy, moisture-free, and delicious. (You can use this for granola!) Set aside and let cool.
Once cool, grind spent grain in a spice or coffee grinder (I used a spice grinder) until flour is fine.