It may be nearing the end of summer, but here in San Diego summer is far from over. This heatwave is brutal. Temperatures reaching three digits make it hard to do anything except melt, go swimming, and eat ice cream. Passion fruit ice cream that is.
Passion fruit takes me back to Hawaii every time. I ate passion fruit almost every day I was in Hawaii a couple of years ago and can't eat it without thinking of that tropical island paradise feeling. That's why when my neighbor let his passion fruit overgrow and spill into my parent's backyard last year, I wasn't mad about it. Instead, that meant we had an abundance of passion fruit this summer. In fact, we still have more than we know what to do with it. But one thing's for sure, passion fruit ice cream can be on repeat the next couple of weeks.
This ice cream is creamy and luscious. The passion fruit cuts the heaviness of the dairy, creating a tart creamy ice cream. One scoop wasn't enough, I craved more. So in honor of summertime indulgence and the need to cool down in this summer heat, I have enjoyed my fair share.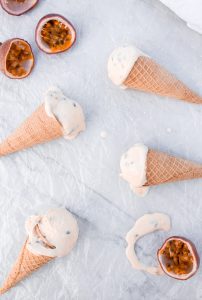 This ice cream mixture is common in regards to prepping it on the stove. Start by slowly creating a custard-like texture with the cream, egg, and sugar. Once done, store the mixture in the fridge until cool, then add it to the ice cream mixer. Lucky for me, my ice cream had mostly churned before the ice cream maker gave out on me, deciding this summer heat was too much. Even though it wasn't fully churned, I popped it in the freezer to finish solidifying and it worked like a gem. The ice cream still turned out beautifully creamy with the proper ice cream texture.
I prefer my ice cream in a sugar cone. It takes me back to trips to the ice cream shop as a kid. But this ice cream can stand strong on its own and tastes like summer in a bowl. While we still have a few more weeks of summer in San Diego, enjoy it! Use it as an excuse to make this passion fruit ice cream and needing to cool off from this summer heat.
Passion Fruit Ice Cream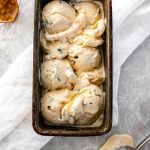 Print This
Ingredients
4 eggs, yolks only

75g sugar

1 tsp corn starch

300g whole milk

300g whipping cream

1 pinch of salt

5 passion fruits
Instructions
Place the ice cream maker bowl in the freezer at least 24 hours before you plan on making ice cream to ensure it's ready to churn and freeze the mixture.
Using an electric mixer, cream together egg yolks, sugar, and corn starch. Set aside.
In a saucepan, combine whole milk, whipping cream, and salt. Bring to a light boil, stirring often to ensure the milk mixture doesn't burn. Once at a gentle boil, gradually whisk the milk mixture into the egg mixture to temper the eggs and prevent them from scrambling. Add the entire mixture back to the saucepan. Continue to cook the mixture on low until it thickens to a custard and is able to coat the back of a spoon. Once thickened, turn off the heat and set it aside to cool.
Once cooled, cling plastic wrap on top of the mixture and set in the fridge to cool for 2-3 hours.
After 2-3 hours, remove the ice cream bowl from the freezer and turn on the ice cream maker. Pour the cold ice cream custard into the maker and allow it to churn for 10 minutes.
Slice passion fruits in half and scoop out the seeds and pulp into a separate bowl. Pour passion fruit into the ice cream maker.
Churn ice cream for an additional 10-15 minutes or until desired consistency.
Transfer ice cream to a container and freeze for 2 hours before serving.
Enjoy!