Fall. It's always been my favorite season. The changing of colors, from vibrant green, to shades of yellow, orange, and red. The subtle spices in food, with additions of cinnamon, nutmeg, ginger, and clove.  And of course, my favorite, pumpkin!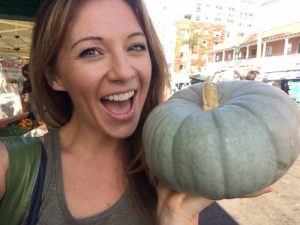 I am a lover of all things pumpkin. As soon as October hits, the house is decorated in pumpkins, from miniature ones, to the ginormous speckled, and plump fairy tale versions of light orange and blue. I love seeing the varieties from my favorite farmers market! The house smells of the traditional fall spices form baked pumpkin breads, roasted pumpkin seeds, pumpkin spice lattes, and intoxicating candles.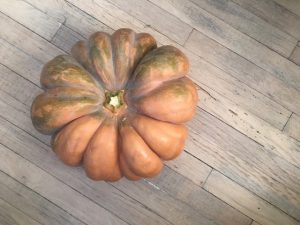 Knowing that I am obsessed with all things pumpkin, one of my dear friends surprised me with some delicious pumpkin spice almond butter. After finishing the jar, I knew I needed more! Sadly, Sprout's no longer carried the seasonal jar of goodness. If I couldn't buy it, I was going to make my own. This time my fall treat would be healthier, using natural organic ingredients and add in powerhouse chia seeds.
This recipe is a two step process, but super quick and easy! You start by making the pumpkin spice puree before adding it to the almond butter and chia seeds. I've loved adding this to toast in the morning or eating with an apple as a midday snack. It would also be good added to yogurt, oatmeal, or a smoothie.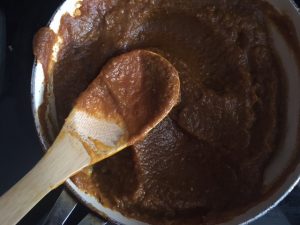 Not only are pumpkins a beautiful fall accessory, they're nutritious as well. They're a nutrient dense food with low calories since they're primarily made of water. Pumpkins are also high in beta-cerotene, which is then converted into vitamin A in our bodies. Vitamin A is important for vision health, cellular growth and differentiation, can aid in fighting free radicals, and boost immunity. It also contains vitamin C and E, aiding in boosting immunity and skin health.
Pumpkin Spice Chia Seed Almond Butter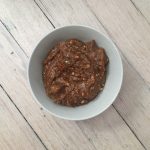 Print This
Ingredients
1 can of organic pumpkin puree

2 tbsp pumpkin spice (I use trader joes)

1 tsp of cinnamon

1/4 cup chia seeds

2 tbsp brown sugar

3/4 cup almond butter (salt free, chunky for texture)
Instructions
Pumpkin Spice Puree  –
Begin by adding the can of pumpkin puree to a pan on low heat. As the pumpkin puree begins to warm, add the pumpkin pie spice, cinnamon, and brown sugar. Gradually mix in the spices and sugar. Allow the pumpkin and spices to simmer on low for 5 minutes.
Pumpkin Spice Chia Seed Almond Butter –
Mix the chia seeds into the almond butter. After allowing the pumpkin spice puree to cool, mix in 1/4 cup of it into the almond butter and chia seed mixture.